ELIMINATE-REDUCE-RAISE-CREATE (ERRC) GRID
The Eliminate-Reduce-Raise-Create (ERRC) Grid is an essential tool of blue ocean strategy developed by Chan Kim and Renée Mauborgne. It is a simple matrix-like tool that drives companies to focus simultaneously on eliminating and reducing, as well as raising and creating while unlocking a new blue ocean.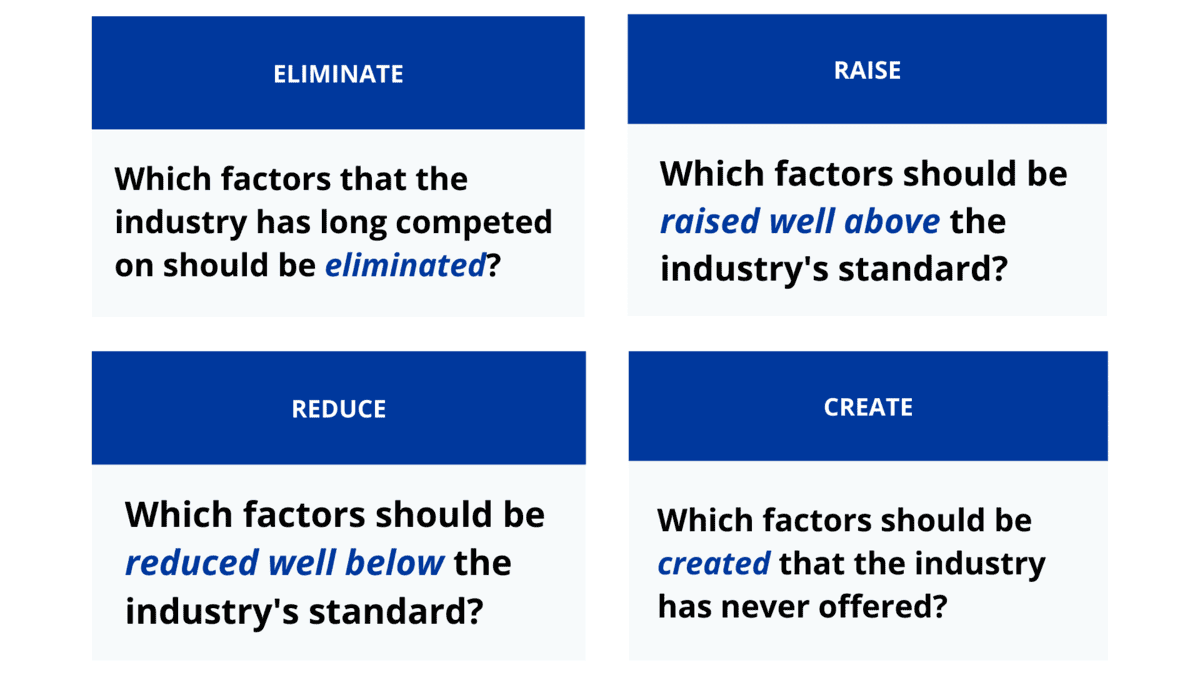 ELIMINATE
Which factors that the industry has long competed on should be eliminated ?
RAISE
Which factors should be raised well above the industry's standard?
REDUCE
Which factors should be reduced well below the industry's standard?
CREATE
Which factors should be created that the industry has never offered?
© Chan Kim & Renée Mauborgne. All rights reserved.
This analytic tool complements the Four Actions Framework. It pushes companies not only to ask the questions posed in the Four Actions Framework but also to act on all four to create a new value curve (or strategic profile), which is essential to unlocking a new blue ocean. The grid gives companies four immediate benefits:
It pushes them to simultaneously pursue differentiation and low cost to break the value-cost trade-off.
It immediately flags companies that are focused only on raising and creating, thereby lifting the cost structure and often over-engineering products and services – a common plight for many companies.
It is easily understood by managers at any level, creating a high degree of engagement in its application.
Because completing the grid is a challenging task, it drives companies to thoroughly scrutinize every factor the industry competes on, helping them discover the range of implicit assumptions they unconsciously make in competing.
ERRC Grid Template and Examples
Learn how to use the ERRC Grid on the examples of CitizenM, [yellow tail], Apple's iPhone, and Medellin's Metrocable. Use the provided ERRC Grid template to develop concrete and actionable blue ocean strategic options that pursue both differentiation and low cost.
ERRC Grid Template and Examples
Create a leap in value for buyers while keeping costs low
A Blue Ocean Compass for Your Post-Covid Strategy
Four questions to help you rethink industry logic and existing practices to prepare for a powerful comeback
Think Different: Apple's Blue Ocean Formula for Success
The strategic thinking behind the world's most innovative company
How Shake Shack Flipped the Burger Restaurant
The gourmet fast food industry case study
Blue Ocean Strategy in the Hotel Industry
How citizenM created new market space in an overcrowded industry
THE BLUE OCEAN STRATEGY PRACTITIONER PROGRAM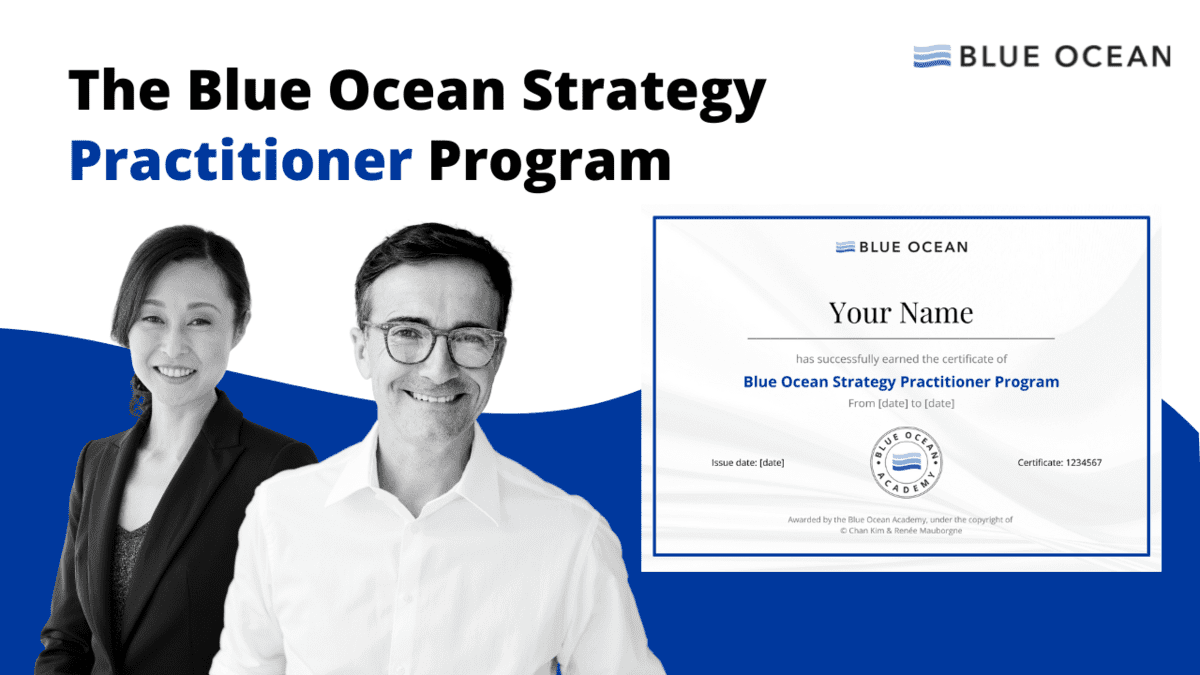 Join the ranks of blue ocean strategy practitioners with our globally recognized program
Learn how to put blue ocean theory and its tools and frameworks into practice in just 5 weeks with our interactive, expert-led program.