Value Innovation is the simultaneous pursuit of differentiation and low cost, creating a leap in value for both buyers and the company.
The concept of value innovation is developed by Chan Kim and Renée Mauborgne and is the cornerstone of market-creating strategy. Because value to buyers comes from the offering's utility minus its price, and because value to the company is generated from the offering's price minus its cost, value innovation is achieved only when the whole system of utility, price, and cost is aligned.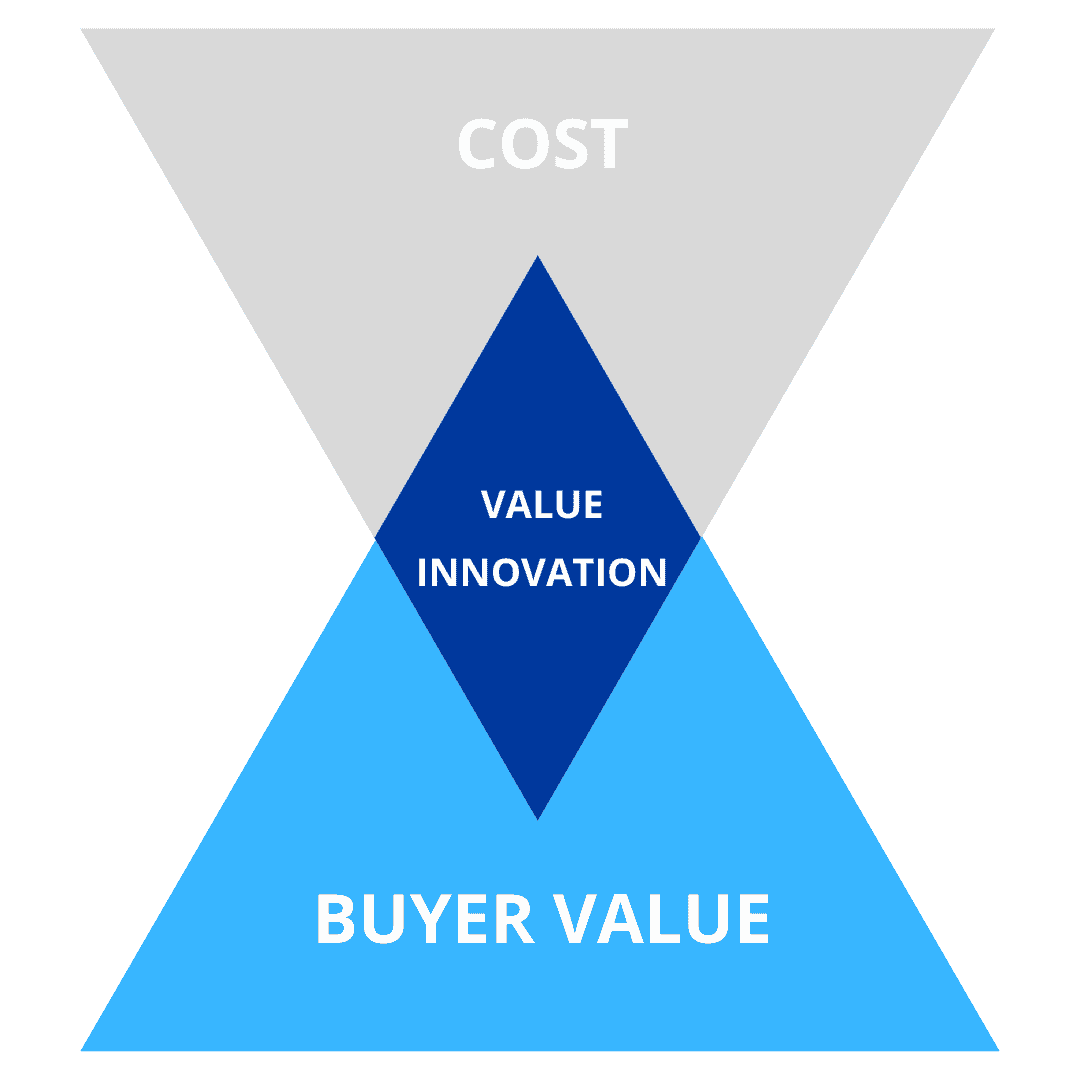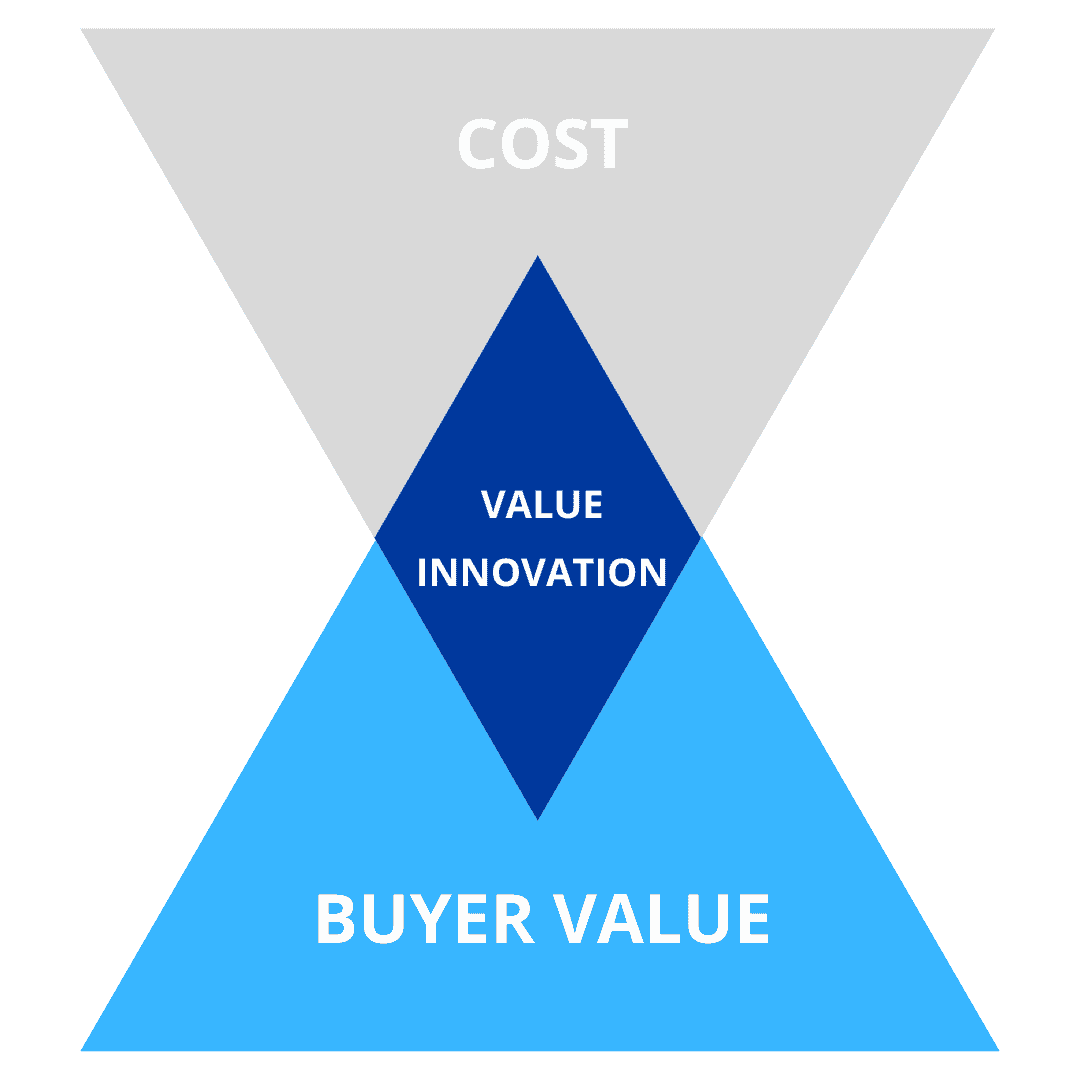 Cost savings are made by eliminating and reducing the factors an industry competes on.
Buyer value is lifted by raising and creating elements the industry has never offered.
© Chan Kim & Renée Mauborgne. All rights reserved.
Value innovation places equal emphasis on value and innovation. Value without innovation tends to focus on value creation on an incremental scale, something that improves value but is not sufficient to make you stand out in the marketplace. 
Innovation without value tends to be technology-driven, market-pioneering, or futuristic, often shooting beyond what buyers are ready to accept and pay for.Value innovation defies one of the most commonly accepted dogmas of competition-based strategy: the value-cost trade-off. It is conventionally believed that companies can create greater value to customers at a higher cost or create reasonable value at a lower cost.
Here strategy is seen as making a choice between differentiation and low cost. In contrast, those that seek to create blue oceans pursue differentiation and low cost simultaneously.
Break the value-cost trade-off by answering the following questions:
Which of the factors that the industry takes for granted should be eliminated?
Which factors should be reduced well below the industry's standard?
What factors should be raised well above the industry's standard?
What factors should be created that the industry has never offered?
The Rising Importance of Value Innovation for Creating New Growth
With limited resources at hand, companies need to stay smart and efficient when it comes to investing in innovation
Why Technology Innovation Only Counts When Linked to Buyer Value
Technology innovation can make a splash but you need to figure in value innovation
Why Lowering Costs and Increasing Value Doesn't Need to be a Trade-Off
Break the value-cost trade-off with blue ocean strategy
Invention vs Innovation: The Important Difference for Your Organization's Future Growth
And why you need to focus on value innovation instead
Why Companies Need to Take a Fresh Look at Innovation
Professor Chan Kim spoke at the Panasonic Cross-Value Innovation Forum 2018
Teaching Materials
Value innovation vs technology innovation
THE BLUE OCEAN STRATEGY PRACTITIONER PROGRAM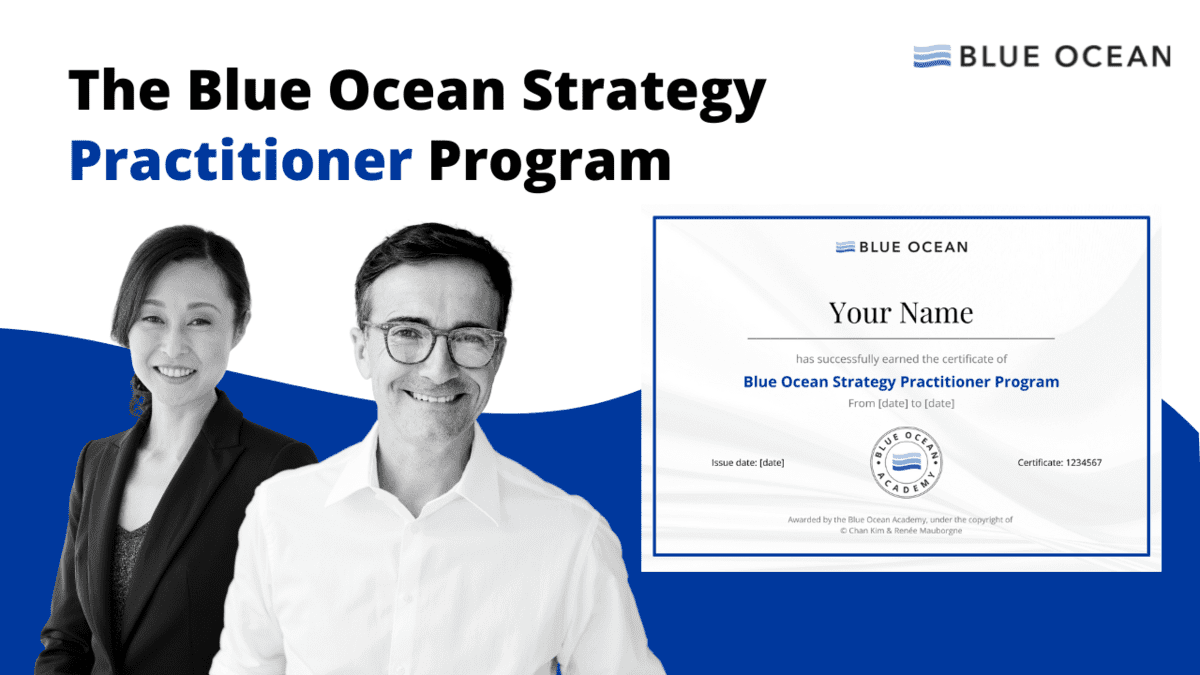 Join the ranks of blue ocean strategy practitioners with our globally recognized program
Learn how to put blue ocean theory and its tools and frameworks into practice in just 5 weeks with our interactive, expert-led program.