THREE COMPONENTS OF HUMANNESS
Humanness builds psychological understanding into the blue ocean shift process so that people are willing to engage fully at every step – even when they are hesitant, may not trust one another, or are skeptical of their ability to succeed on the transformation journey. The blue ocean shift process accomplishes this not by demanding that anyone change but by easing people's fears and building their confidence step-by-step so they own and drive the process and are open to learn and free their imaginations from what is to imagine what could be.
To build humanness into the blue ocean shift process and help people develop the confidence to act, Chan Kim and Renée Mauborgne have identified three elements that address different aspects of our humanness: atomization, first-hand discovery, and the exercise of fair process.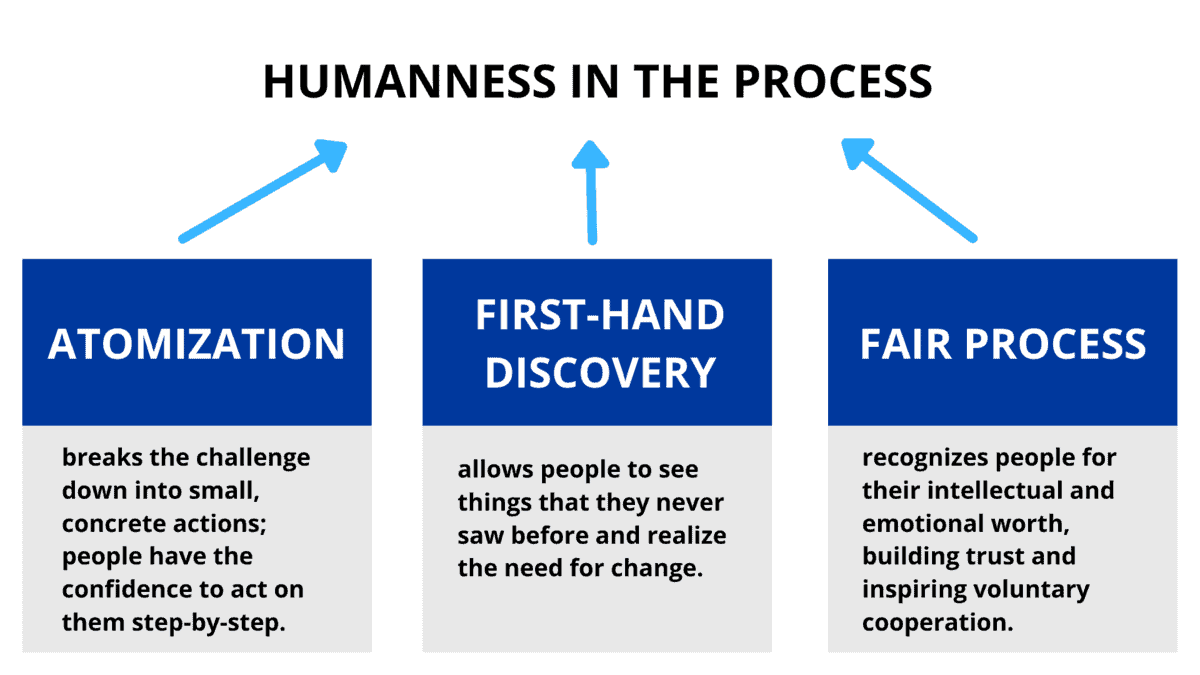 © Chan Kim & Renée Mauborgne. All rights reserved.
Atomization involves deconstructing the challenge into small, concrete actions and focusing on completing them one at a time. This moves people forward in increments while inspiring and building their confidence step-by-step. Each step pushes the boundaries of their thinking, but no one step overwhelms them.
First-hand discovery enables people to discover for themselves, first-hand, the need for change, instead of being told. By not handing people predetermined conclusions and instead providing them tools to think in new ways and putting them face to face with the market, they discover for themselves the need-or the lack of need – to make a blue ocean shift. This moves them from the unsettling, highly vulnerable mindset of "I don't know" to the quietly confident one of "I know," not because they have been briefed by a report or told by a third-party focus group, but because they saw and experienced it for ourselves.
Fair process communicates through its action how much people are valued as individuals and recognized for their intellectual and emotional worth, thereby building trust and inspiring their voluntary cooperation in the process.
By weaving fair process together with atomization and first-hand discovery into the blue ocean shift process, humanness and, hence, confidence to act are instilled and reinforced. Execution is no longer an afterthought. Rather it is built into the process by creating people's buy-in to the outcome of the process itself.
Read the blog:
Why You Need 'Humanness' to Make A Blue Ocean Shift
Humanness is having a humanistic process in your organization
THE BLUE OCEAN STRATEGY PRACTITIONER PROGRAM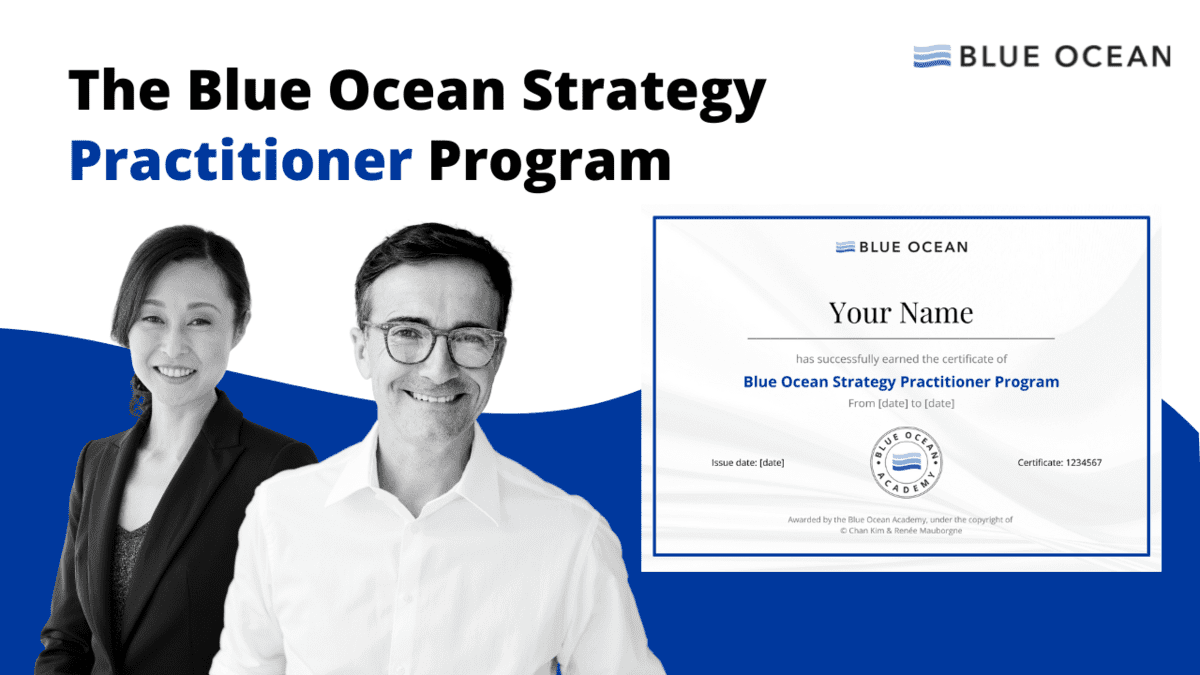 Join the ranks of blue ocean strategy practitioners with our globally recognized program
Learn how to put blue ocean theory and its tools and frameworks into practice in just 5 weeks with our interactive, expert-led program.