BLUE OCEAN LEADERSHIP VS CONVENTIONAL LEADERSHIP DEVELOPMENT APPROACHES
Most leadership development programs and leadership strategies are designed to hone the cognitive and behavioral skills of leaders with the implicit assumption that this would ultimately translate into high performance. Chan Kim and Renée Mauborgne's Blue Ocean Leadership, in contrast, taps into the field of strategy by focusing on actions tied to market realities to rapidly bring about a step-change in leadership strength. It's distinct from traditional leadership development approaches in several overarching ways as indicated in the table below:
Conventional Leadership Development Approaches
Focus on the values, qualities and behavioral styles that make for good leadership under the assumption that these ultimately translate into high performance.
Tend to be quite generic and are often detached from what organizations stand for in the eyes of their customers and the market results their people are expected to achieve.
Focus mostly on the executive and senior levels of organizations.
Invest extra time for leadership practices added on to people's regular work.
Blue Ocean Leadership
Focus on what acts and activities leaders need to undertake to boost their teams' motivation and business results, not on who leaders need to be.
Connect leaders' actions closely to market realities by having the people who face market realities define what leadership practices hold them back and what leadership actions would enable them to thrive and best serve customers and other key stakeholders.
Distribute leadership across all three management levels because outstanding organizational performance often comes down to the motivation and actions of middle and frontline leaders who are in closer contact with the market.
Pursue high-impact leadership acts and activities at low cost by focusing as much on what leaders need to eliminate and reduce in what they do as on what they need to raise and create.
© Chan Kim & Renée Mauborgne. All rights reserved.
THE BLUE OCEAN STRATEGY PRACTITIONER PROGRAM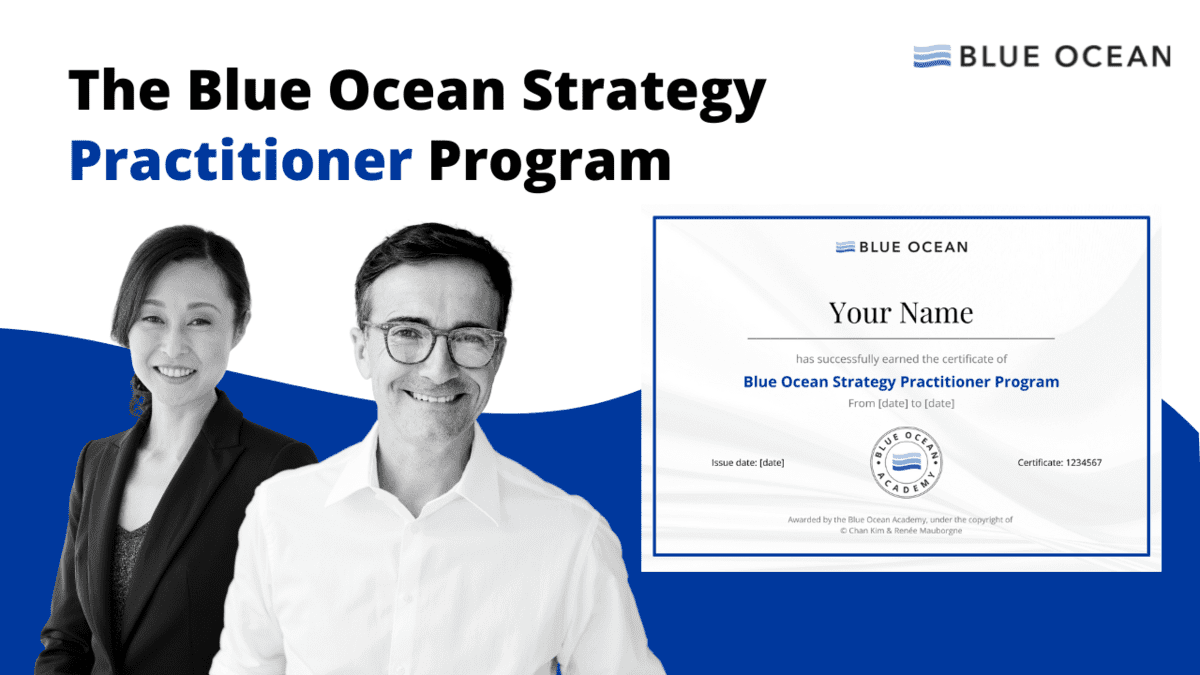 Join the ranks of blue ocean strategy practitioners with our globally recognized program
Learn how to put blue ocean theory and its tools and frameworks into practice in just 5 weeks with our interactive, expert-led program.