What can you possibly do with a product as basic as toilet paper to stand out in a hypercompetitive industry? Kimberly-Clark Brazil (KCB) was drowning in the bloody red ocean of the US$1.5 billion Brazilian toilet tissue industry when it turned to the tools and process of blue ocean shift.
Determined to seize new growth at a time when the consumer-goods company was facing not five but 50 direct competitors, KCB set up its blue ocean initiative team. For three months, the team worked together to come up with their six blue ocean options to make KCB's toilet tissue stand out and offer a leap in value to buyers.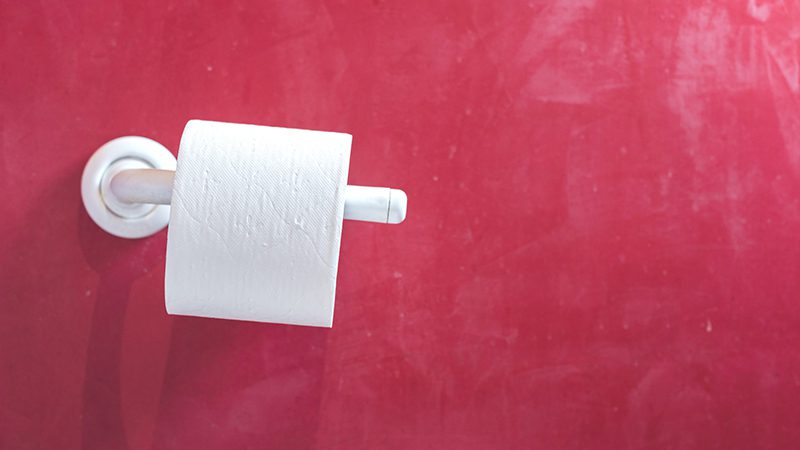 Blue toilet paper – case study
Knowing how commoditized their industry was, everyone on the team initially had the same question: What can be done beyond producing toilet paper more cost-effectively than the competition? But by applying one of the most pivotal tools in the blue ocean shift process, the team quickly turned that question on its head.
Buyer utility map: unlocking trapped value in a vast sea of white
They drew the buyer utility map of the toilet paper industry. The buyer utility map is a blue ocean tool that outlines all the levers companies can pull to deliver exceptional utility to buyers as well as the various experiences buyers can have with a product or service. In drawing the map, the team saw how narrow and limited were the spaces their industry focused on.
The whole industry seemed focused on embossing toilet paper, or adding scents, or providing low-quality, one-ply tissue. Faced with an overwhelming choice, but with nothing that stood out, customers were frustrated. And the industry wasn't giving people on tight budgets a compelling reason to choose their toilet paper based on anything other than price. Using the buyer utility map, the team was able to visualize all the untapped utility spaces they could explore and exploit to unlock trapped value.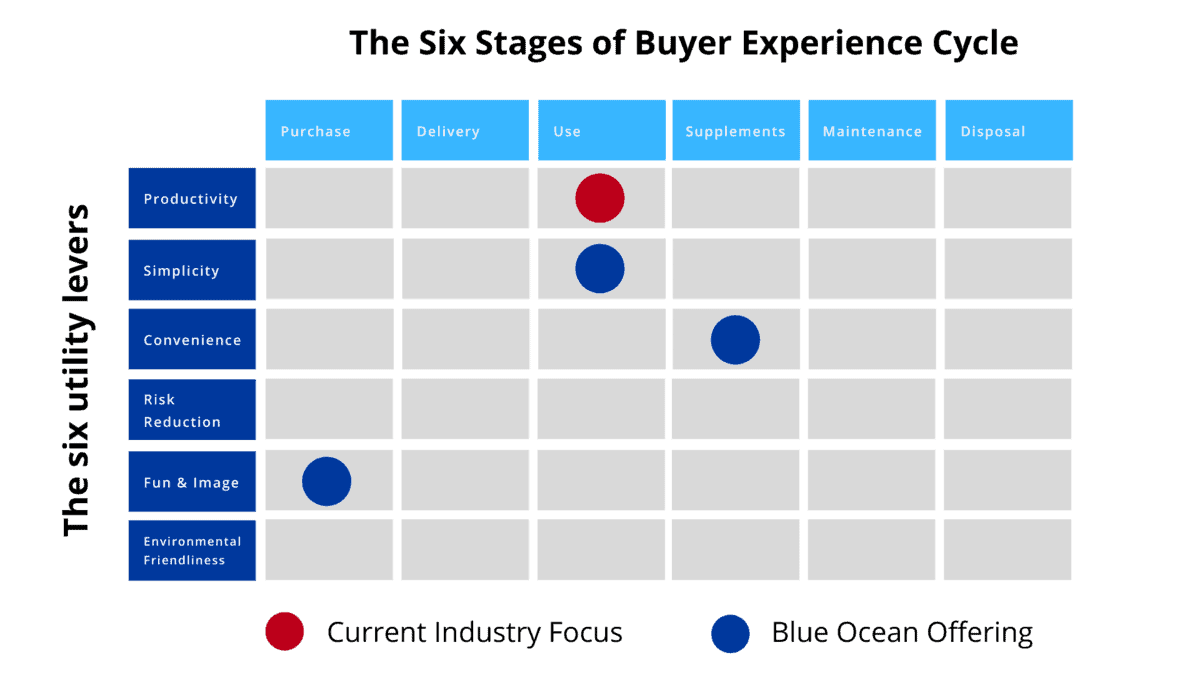 © Chan Kim and Renée Mauborgne. All rights reserved.
Blue ocean fair: shifting people's perceptions of their own creativity and worth
Three months in, the blue ocean initiative team was ready to hold a blue ocean fair. The entire Brazil executive team and KCB leaders from across Latin American gathered in a large ballroom of a Sao Paulo hotel for their blue ocean fair. They had two objectives: first, to select the strongest blue ocean move with the best profitable growth potential; second, to mobilize the willing cooperation and commitment of leaders at every level of the organization to ensure effective implementation. In total, almost 100 people were present including the blue ocean initiative team.
The blue ocean initiative team started off by using another blue ocean tool, the strategy canvas and revealing the pain points on the buyer utility map. In one simple picture, the strategy canvas captures the current strategic landscape and the future prospects for an organization. Read next: "5 Compelling Strategy Canvas Examples You Can Learn From."  
Eventually, the blue ocean initiative team pitched their six blue ocean options, each complete with a to-be strategy canvas, ERRC grid (a simple matrix like blue ocean tool that shows what factors to eliminate, reduce, raise create), a summary of the benefits to buyers, and an overview of the economic benefits to KCB. In the space of one to two hours, each of the 100 attendees gave their feedback on each offering, giving a maximum of two votes to their most highly-rated strategic option.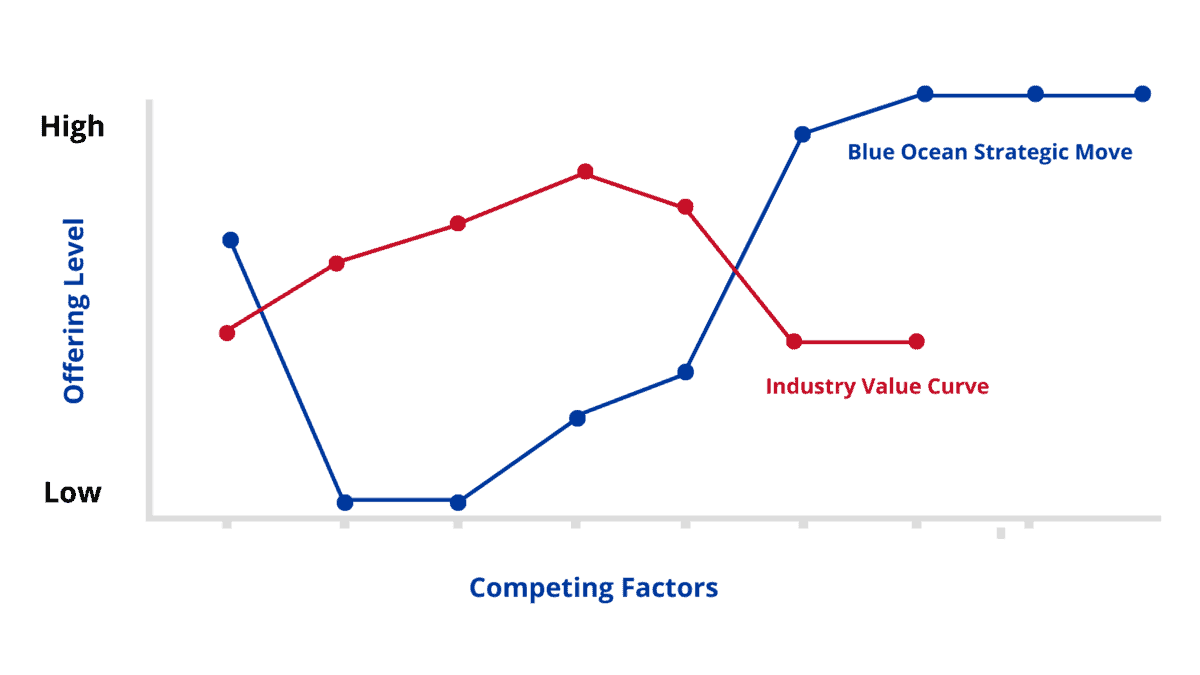 © Chan Kim and Renée Mauborgne. All rights reserved.
Just One Hug: solving multiple industry problems with one blue ocean option
The largest share of votes went to Just One Hug, which took a roll of toilet paper and significantly reduced its size – but not the amount of paper it contained – through compression. By Giving the compressed roll a 'hug' made it pop back to a round toilet paper roll ready for use. Just One Hug also had a strong but simple plastic strap to make carrying it easier. With many Brazilians going to supermarkets via public transport or on foot, and many traveling long distances to get to a hypermarket, carrying toilet paper was a nightmare, and this was something that had escaped the entire industry's radar. Another problem waiting to be solved: once they got home, people struggled to store packages of toilet paper in small apartments. Just One Hug's compressed size solved that problem.
Taking it a step further, KCB decided to combine Just One Hug with one of the other options at the fair – eco-fiber an environmentally friendly tissue paper. As Just one hug was already reducing packaging and increasing transportation efficiency, using Eco paper further enhanced its environmental credentials.
A new value-cost frontier that remains the industry standard in Brazil today
One of the most valuable realizations that occur at a blue ocean fair is the profound shift in people's perceptions of their own and others' creativity and worth. It can be a watershed moment and, in KCB's case, it had a profound effect on the organization's culture and future performance. After a successful series of rapid market tests, the product was launched. The compressed size led to a 15% drop in transportation costs – especially significant given Brazil's large size – a 19% reduction in the amount of packaging material used, and a drop in returns due to damage. All these factors contributed to gross margins greater than 20% – unheard of in the industry.
An additional win for retailers like Walmart was that they were able to list the tissue paper as an environmentally friendly product due to its far lower carbon footprint, reduced packaging and use of eco-friendly fibers. Several months after it was introduced, KCB was named the "Best Sustainability Supplier for Walmart" and it later became the most sustainable product in the whole of Kimberly-Clark globally. The new value-cost frontier the offering unlocked inspired KCB to roll out the compact format across every one of its major brands like Scott, providing a leap in value for its entire line of toilet paper. First launched in 2009, the blue ocean compact format, born from the fair, remains the industry standard in Brazil and a star performer for KCB, despite the eventual entry of followers who imitated it.
Watch our video on how Kimberly-Clark Brazil stood apart in a cutthroat industry