Based on the case study, PetWellClinic: Shifting from a Red to a Blue Ocean, written by Chan Kim, Renée Mauborgne, and Michael Olenick, Executive Fellow at the INSEAD Blue Ocean Strategy Institute. 
Red Ocean of Veterinary Practice
Veterinary visits are a dreaded affair, for both the pets and their owners. The entire ordeal involves setting appointments well in advance, leaving work to fetch the animal, stressful waits, tense pet interactions, and a labyrinth of procedures carried out by overworked vets juggling both medical duties and sales pitches for clinic-exclusive items.
At the end, pet owners are slapped with a hefty bill, and they're not the only ones feeling the pinch. Vets, like Dr. Sam Meisler who's been in the game since the '80s, are also struggling with the grueling demands of the job and the financial strain that comes with it.
Contrary to public belief, vets work long hours but often struggle financially in a field where they spend an inordinate amount of time worried about selling services rather than caring for sick animals.
The 2008 recession only made things worse, leaving our Dr. Sam juggling two failing clinics and a mounting wave of unhappiness. Clearly, the system's broken – it's high time for a change.
Veterinary practice isn't all tail-wags and purrs. Vets have it rough – they graduate from their grueling eight-year programs (4 years of undergraduate + 4 years of postgraduate programs) buried under massive student debts and dive headfirst into an unpredictable, high-pressure profession.
They often barely scrape by financially, stuck between their duty to care for animals and the pressing need to keep the lights on and their staff paid. To add insult to injury, vets, like Dr. Sam Meisler, are slammed with criticism when they can't offer free care and are often victims of cyberbullying.
And the real gut-punch? They face the traumatic task of euthanizing animals sometimes due to owners' financial constraints, leading to an alarming rate of suicide among veterinarians.
The Need to Challenge the Status Quo
Dr. Sam, a vet with a head for business, found himself neck-deep in an industry that was more cutthroat competition than healing animals. After wrestling with the harsh reality of veterinary practices – places where healthcare often took a backseat to selling an array of services and products – he was tired, broke, and depressed. He realized this wasn't what the vast majority of vets spend years of their lives training for.
Vet clinics, whether a sole practitioner or multi-vet practice, were all pushing the same questionable services, from unnecessary vaccines to potentially harmful procedures.
Both are full-service and, for each type, every clinic of the same type is virtually identical. Customers walk in the front door on two legs with a reasonable expectation the health of a four-legged furry friends will be the first concern of vets. Instead, the two-legged types often encounter stressed out vets juggling multiple patients. Vets pop in for brief exams and sometimes sell a variety of questionably necessary products and services like vaccinations for extremely rare diseases, excessive tests, and expensive procedures that arguably aren't especially helpful and may even endanger pets.
The result? Overworked vets, frustrated pet owners, and animals caught in the crossfire. Hit hard by this grim reality, Dr. Sam knew a change was in order.
Introducing PetWellClinic: A Walk-In Clinic that Reshaped the Industry
While in business school, Dr Sam read Blue Ocean Strategy book and decided to put its principles into action in veterinary practice.
Inspired by value innovation, the idea of simultaneously delivering high value at low cost, Dr. Sam theorized that a clinic that eliminated and reduced many of the traditional veterinary services could offer more value to vets, pets, and pet owners.
Simultaneously, costs could be reduced providing the needed funds to raise and create other factors enabling a leap in value to break out of the red ocean vet clinic industry. The PetWellClinic was born.
PetWellClinic is a no-appointment, walk-in veterinary clinic that focuses on routine care like vaccines, check-ups, and medication. His clinic stripped away costly and unnecessary services, with no surgery, dental cleaning, or in-patient facilities.
Gone were the distracting phone calls and secretive pricing; replaced by open floor plans, transparent fees, and highly-focused pet care.
Dr. Sam applied blue ocean strategy systematically and created a new market space that has catapulted him to unprecedented success  
He financed the pilot clinic from the earnings of his traditional clinics, ensuring minimal financial and brand risk. He opened the doors of his pet-friendly, value-oriented vet clinic in 2010, reinventing the traditional veterinary service model, promising better results for pet owners, animals, and veterinarians alike.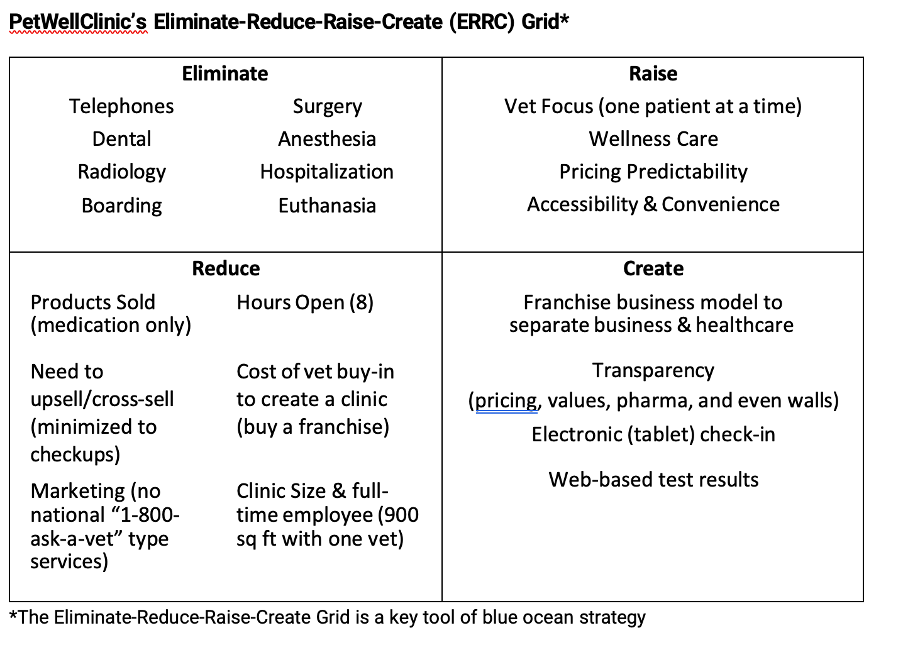 The Results of the Blue Ocean Move
Dr. Sam's innovative PetWellClinic, a fresh take on the veterinary service model, didn't take long to catch on. Pets and pet parents both left healthier and happier than at his traditional clinics, leading to growing popularity. Despite some early struggles, including a partner who didn't fully grasp the blue ocean model and the constraints of splitting his time with his traditional clinic, PetWellClinic began to thrive.
From a single clinic to a 140+ franchises 
From its humble beginnings in 2010 with a single clinic open only Saturdays, the brand has grown exponentially. After buying out his partner in 2015, and expanding operating hours, by 2022 Dr. Sam had 145 PetWellClinic franchises sold across 11 states, with 16 operational and the rest in various stages of development, solidifying PetWellClinic as a revolutionary force in the industry.
Check Out the Case Study
If you're an educator interested in teaching blue ocean strategy to your students, check out this exciting case study, which comes with a teaching note to guide classroom discussion and lecture slides, and first-hand video interviews.
PetWellClinic
Shifting from a Red to a Blue Ocean
Author(s): KIM, W. Chan, MAUBORGNE, Renée, OLENICK, Michael