Harvard Business Review paid tribute to INSEAD's Chan Kim and Renée Mauborgne, along with Harvard's Michael Porter and the late Clayton Christensen, at its 100-year celebration that took place at Jazz at Lincoln Center in New York City on March 7th 2023.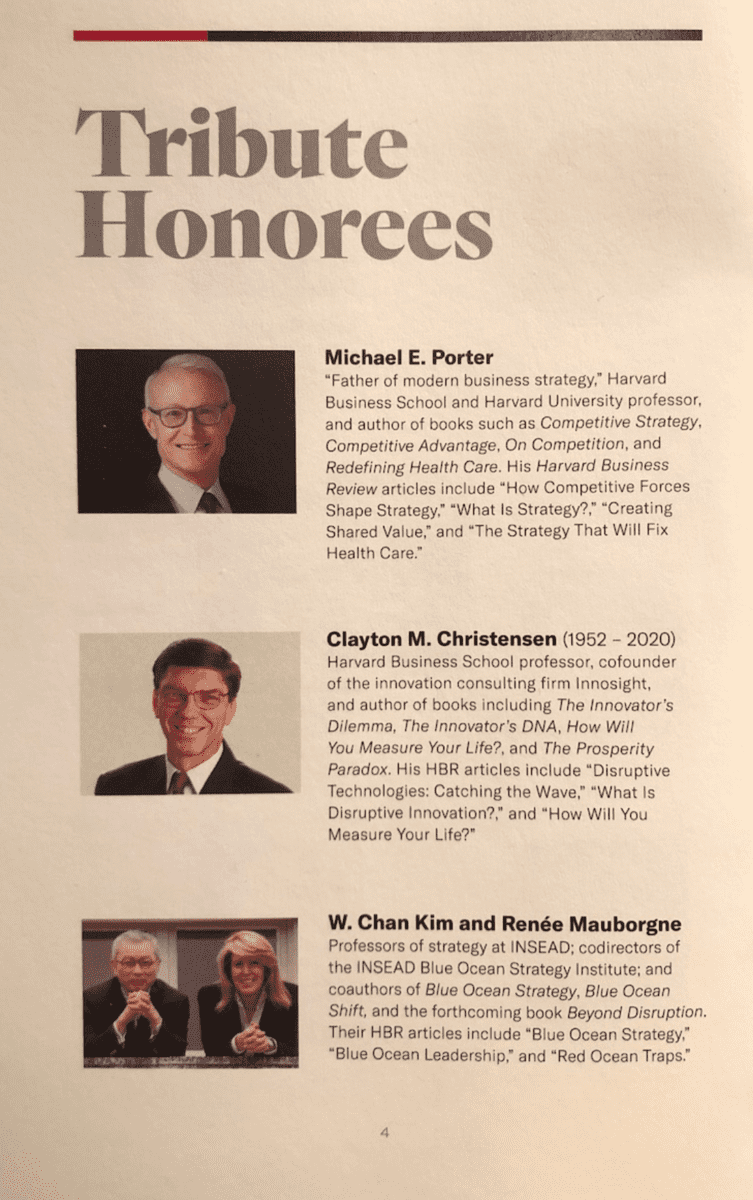 Chan Kim and Renée Mauborgne were honored as two of the four leading thinkers in Harvard Business Review's 100-year history for the far-reaching global impact of their body of research and ideas, which seeks to understand how to go beyond zero-sum, win-lose paradigms to achieve positive-sum outcomes that create a larger economic pie for all.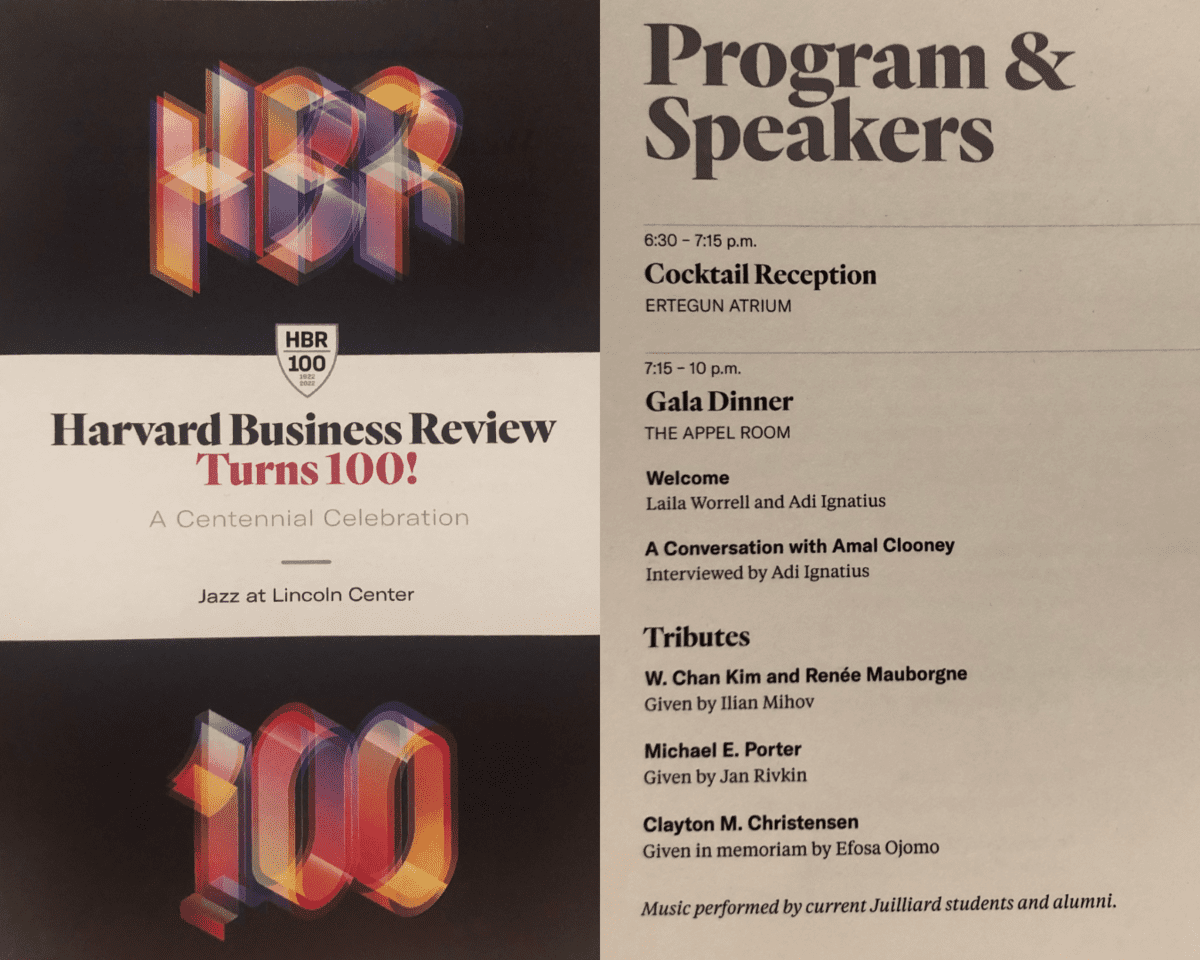 "We are delighted and humbled by HBR's recognition as two of the four leading thinkers in their 100th anniversary celebration. We hope that our research, and the research of our INSEAD colleagues, will continue to inspire leaders of business and society, making a positive difference to the world." 
Chan Kim and Renée Mauborgne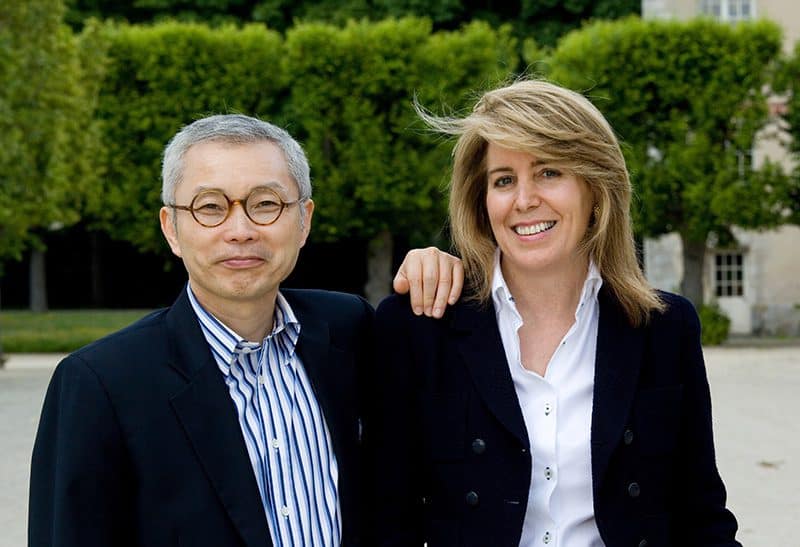 INSEAD Dean Ilian Mihov delivered the tribute:
"The professors' academic partnership began over 30 years ago at the University of Michigan in Ann Arbor, United States. After joining INSEAD they continued their research in the field of strategy and innovation. They have published a series of influential articles in top academic and managerial journals like Academy of Management Journal, Management Science, Organization Science, Strategic Management Journal, Administrative Science Quarterly, Journal of International Business Studies, Harvard Business Review, and MIT Sloan Management Review.
"It was a pleasure to honour Chan and Renee for the incredible impact they have made, and continue to make, on management education and business strategy, with thousands of companies applying their ideas to build the responsible and effective businesses needed for our economies. Their work is an embodiment of INSEAD's commitment to rigorous and relevant research that seeks impactful solutions to real-world problems and drives our mission to be the force for good for business and society."
INSEAD Dean, Ilian Mihov
In 2017, Kim and Mauborgne followed this up with the New York Times, #1 Wall Street Journal, USA Today, and Los Angeles Times bestseller Blue Ocean Shift: Beyond Competing. To date, Blue Ocean Strategy and Blue Ocean Shift teaching materials have been adopted by nearly 3,000 universities across the globe.
At INSEAD, the Blue Ocean Strategy Institute was established in 2008 in honour of Kim and Mauborgne's work, and to foster the further application and development of these ideas. INSEAD also runs dedicated executive Blue Ocean courses several times a year, as well as Blue Ocean electives for MBA students on both its Europe and Asia campuses.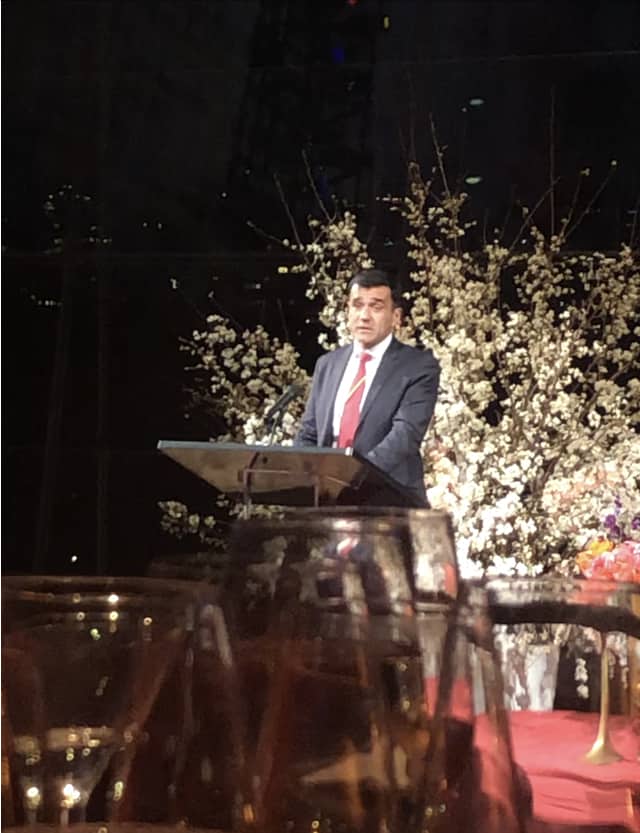 Kim and Mauborgne's work has garnered numerous global awards and honours over the years and has generated many success stories in the business world. Their research has inspired the creation of the Blue Ocean Awards for companies. First launched in France in 2014, the Awards are now rapidly expanding across the globe, from South Africa to India and soon to the US.
It also led to the creation of the Blue Ocean High School Competition, based out of the US, which was started by high school students inspired by the relevance of their research. It has grown to become the largest virtual pitch competition in the world. This year the competition attracted more than 5,200 high school students from 146 countries and 46 US states.
This May will see the release of their latest book, Beyond Disruption: Innovate and Achieve Growth without Displacing Industries, Companies, or Jobs. It introduces the theory of nondisruptive creation—creation without destruction or disruption, advancing their research in the field of innovation. It pioneers a new path to innovation and growth, showing how business and society can thrive together."