Twenty years ago, Colombia's second-largest city, Medellin, had one of the highest murder rates in the world. Dubbed 'Murder Capital of the World', 16 people were murdered on average a day in 1991. The rampant violence was largely caused by drug traffickers, local gangs and guerrilla forces.
Murder capital of the world
Medellin, the 'murder city', was home to the notorious narcotrafficking group, the Medellin Cartel. The cartel, led by infamous drug lord Pablo Escobar, was a highly organized network of narcotraffickers that supplied up to 80% of cocaine in the United States at the time. Drug trafficking was thriving in Colombia and the country eventually became the world's largest cocaine producer and exporter. In the mid-1980s, the Medellin cartel was making US$22 to US$26 billion a year. This was at a time when Colombia's GDP was approximately US$35 billion.
Up to 70% of Colombians were living below the poverty line until the mid or late 1980s. Many of Medellin's poor lived in illegal settlements on steep hillsides that isolated them from basic amenities. These overpopulated slums formed a convenient setting for gangs to expand their influence and carry out illegal activities.
Medellin – the most innovative city in the world
Fast forward to today. Medellin has created a blue ocean, transforming itself into a model city of innovation. It has won multiple awards in recent years including the prestigious Harvard University Veronica Rudge Green award for urban design and 'The Most Innovative City of the World' by the Urban Land Institute, Citigroup and the Wall Street Journal in 2013, beating finalists New York and Tel Aviv. The crime rate is 80% lower than it was in 1991 and poverty has gone down by more than 96%.
So how did Medellin go from murder capital of the world to the most innovative city of the world in under 20 years? It all began in 2003, when mathematics professor, Sergio Fajardo, was elected mayor of Medellin, securing the biggest electoral victory in the city's history. A new era of change was about to begin focused on creating a leap in value at low cost, what Chan Kim & Renée Mauborgne call "value innovation".
Medellin innovation: Using existing technology to create high impact at low cost
Among these changes, one stands out: Medellin's pioneering 'Metrocable'. Instead of constructing a new railway, Medellin looked across alternative industries and decided to repurpose chairlift technology, conventionally used in ski resorts. Using the existing technology, Medellin built the world's first urban cable car system dedicated to public transport, at half the cost of a comparable railway system.
Metrocable Medellin
Connecting poor neighborhoods on the steep hillsides, Medellin's transportation system transformed the city rapidly and at low cost. Today, Metrocable carries about 30,000 passengers a day traveling to and from the city center. Ultimately, the city's innovative public transportation system became one of its most important strategies to reduce poverty and crime.
Metrocable Medellin: Strategy Canvas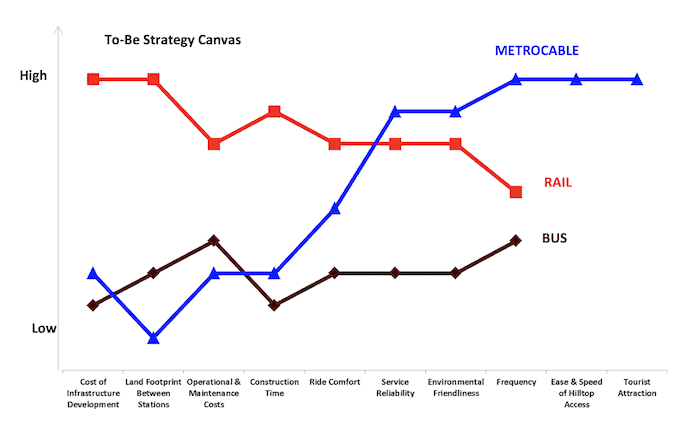 © Chan Kim & Renée Mauborgne, Blue Ocean Shift: Beyond Competing – Proven Steps to Inspire Confidence and Seize New Growth.
Medellin also constructed a giant 384-meter outdoor escalator system, equivalent to 28 stories high, offering residents of the poorest, most dangerous hillside neighborhoods rides to the city center. Escalators that are usually only used in indoor shopping malls were repurposed to create a network of escalators, improving the quality of life for thousands of people that were previously isolated. Before, it was not only difficult for people to travel, the government struggled to send equipment and material to develop the area. People would spend up to an hour going downstairs and mountain alleys just to reach the bottom of the hill. Today, it takes five minutes on the escalators.
Check out other strategy canvas examples of companies like Apple, CitizenM, or [yellowtail]. 
Attracting noncustomers through an innovative public transport system
Building and installing the system cost the city US$6.7 million – less than 1% of the municipal annual budget. Metrocable and the escalator network have made it much easier for previously marginalized communities to access job opportunities and amenities in the city center. And as the quality of life has improved, gang influence has diminished, resulting in a dramatic increase in safety.
Medellin identified factors the transport industry competed on but that were of little value to its citizens. By eliminating and reducing these factors, the city was able to lower the cost of upgrading its transport system. By raising and creating other value factors like hillside access and service frequency, the government created a leap in value for city dwellers. See Chan Kim & Renée Mauborgne's Four Actions Framework: The case of Medellin's metrocable.
The Four Actions Framework: Medellin's Metrocable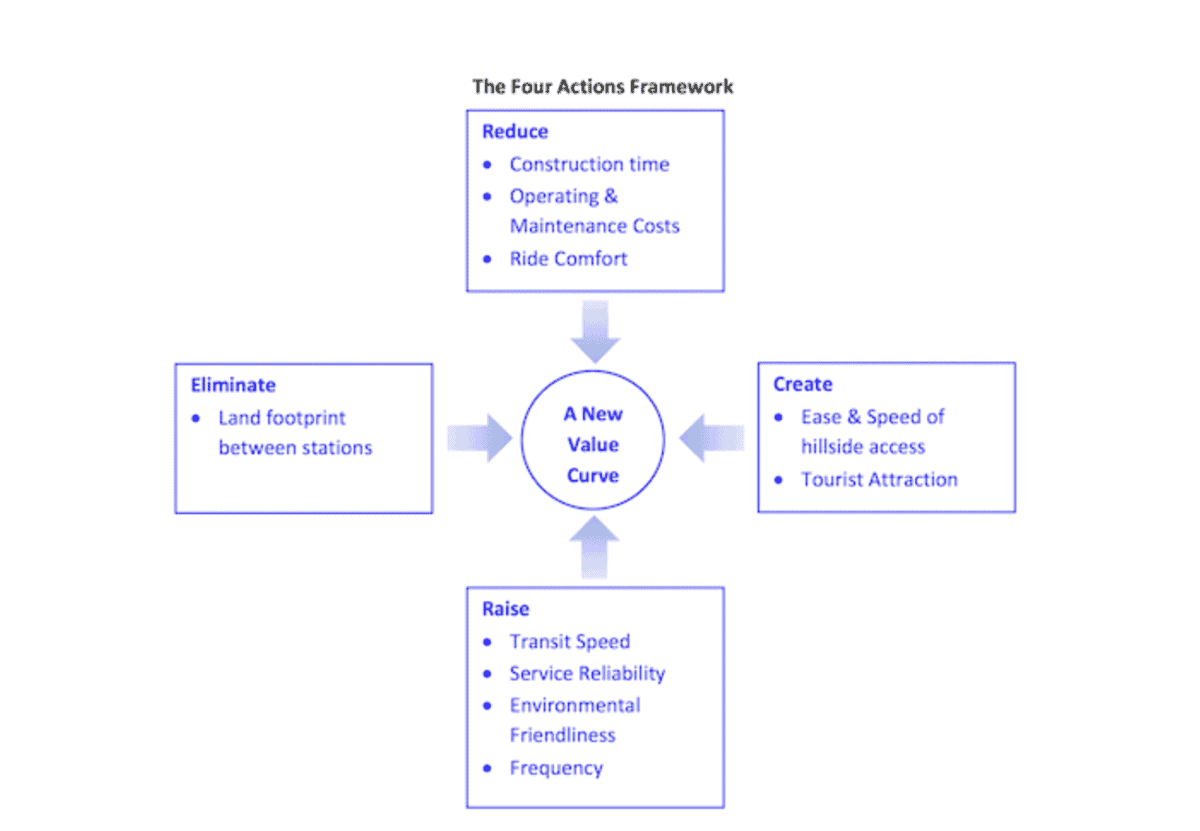 © Chan Kim & Renée Mauborgne, Blue Ocean Shift: Beyond Competing – Proven Steps to Inspire Confidence and Seize New Growth.
Offering the people of Medellin a leap in value through differentiation and low cost
Medellin has carried out a number of other successful programs specifically targeting the least developed areas. With support from a microfinance institution, fourteen entrepreneurship centers were set up in the poorest neighborhoods, providing business support and technical advice to people interested in starting a business. These centers have led to the creation of over 50,000 microenterprises.
The city opened up day-care centers to support underprivileged mothers and children. Pregnant mothers now receive training and information on childcare, and children below the age of five have access to nutrition and pre-school. Local mothers can also get training to become qualified teachers and work at the centers themselves. The day-care center buildings are used for local community activities in the evenings and at weekends.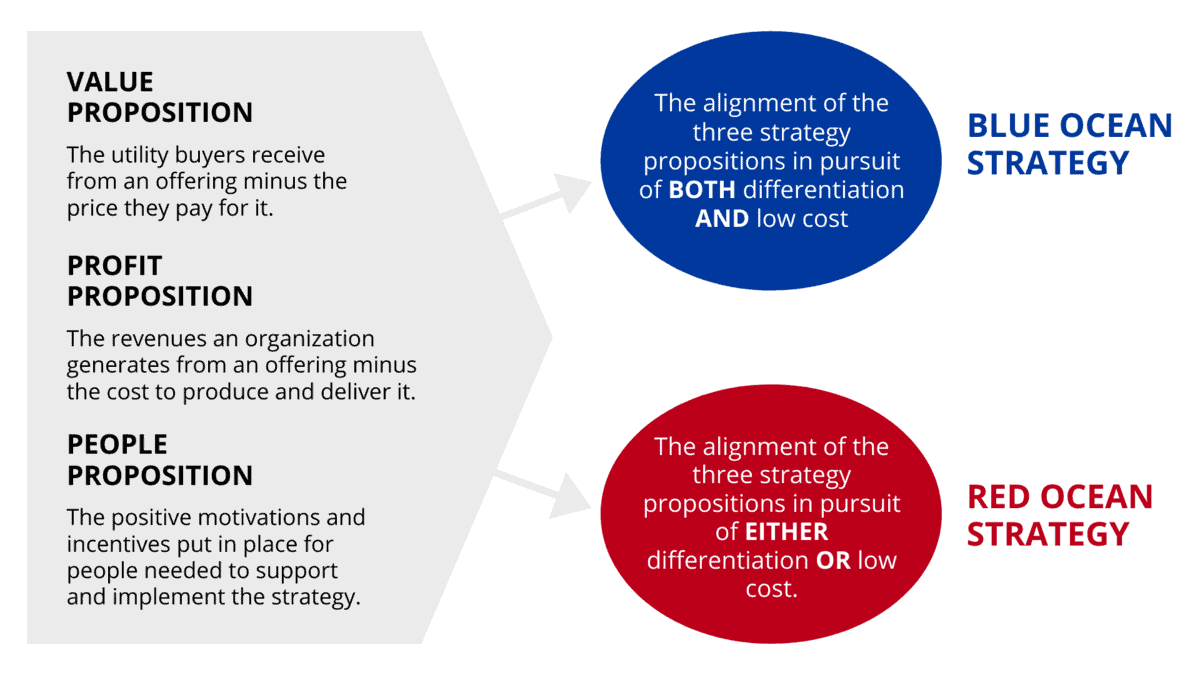 © Chan Kim & Renée Mauborgne, How Strategy Shapes Structure, Harvard Business Review, September 2009.
Building ownership through demand-driven initiatives
Medellin gets most of its funding from public-private partnerships. Medellin's residential public utilities company, 'Empresas Públicas de Medellín', gives 30% of its net profit to the city every year for social development – roughly equivalent to US$500 million a year.
To make the blue ocean shift, the people of Medellin take part in the city's development projects through a participatory budgeting system. Citizens are granted five percent of the municipal budget to select the development projects they want to support. The budget is split between neighborhoods according to population size, quality of life index and community participation. In other words, the poorer, more populated and more active communities receive more budget than the others.
Participatory budgeting means the projects are demand-driven and create a sense of ownership. People continue to maintain the facilities even after the projects are completed. For example, people living near the public escalators share responsibility for maintaining the surrounding areas on a regular basis. This, in turn, lowers the government's operating and maintenance costs. Medellin is one of just a few big cities that have managed to successfully introduce the system, empowering people to define the priorities for their own neighborhoods.
Through these initiatives the city of Medellin pursued both differentiation and low cost, offering a leap in value to its communities. And by aligning the value, budget and people propositions, Medellin applied a blue ocean approach to restore peace and safety and transform itself from the murder capital of the world into one of the most innovative cities in the world.
Read next:
How to Be a Blue Ocean Strategist in a Post-pandemic World
The Rising Importance of Value Innovation for Creating New Growth
7 Powerful Blue Ocean Strategy Examples That Left the Competition Behind
5 Compelling Strategy Canvas Examples You Can Learn From
Four Actions Framework and Eliminate-Reduce-Raise-Create Grid (Examples + Template)