Written by Gowrishankar Sundararajan & Tim Polkowski, Value Innovation Group
Following the rise of Tesla, companies and entrepreneurs are increasingly entering the electric vehicle market. As with the rush to electrify cars, numerous companies have jumped into the electric motorcycle market. However, a clear market leader has yet to emerge and become a household name like Tesla. That could be about to change.
Gogoro, a company that started selling electric motorcycles in 2015, is on the path to becoming Taiwan's first-ever unicorn – a private company with a valuation of more than US$1 billion. How is Gogoro succeeding where so many others are struggling?
An important lesson can be learned from a different technological innovation that was supposed to transform the way we get around – the Segway Personal Transporter.
Why many companies struggle – the lesson of Segway
Launched nearly 20 years ago, the Segway was a technologically amazing product – a self-balancing electric scooter that enjoyed backing from some of the biggest names in technology and venture capital. And…it was a flop.
As Chan Kim and Renee Mauborgne remind us in Blue Ocean Shift, "The Segway was an engineering marvel, one of the most talked-about technology innovations of its day when it launched in 2001. But that did not convince enough people to pay US$4,000 – $5,000 for a product that left them in a quandary over where to park it, how to take it in a car, whether it could be brought on a bus or train, and where it could be used – on sidewalks or roads?"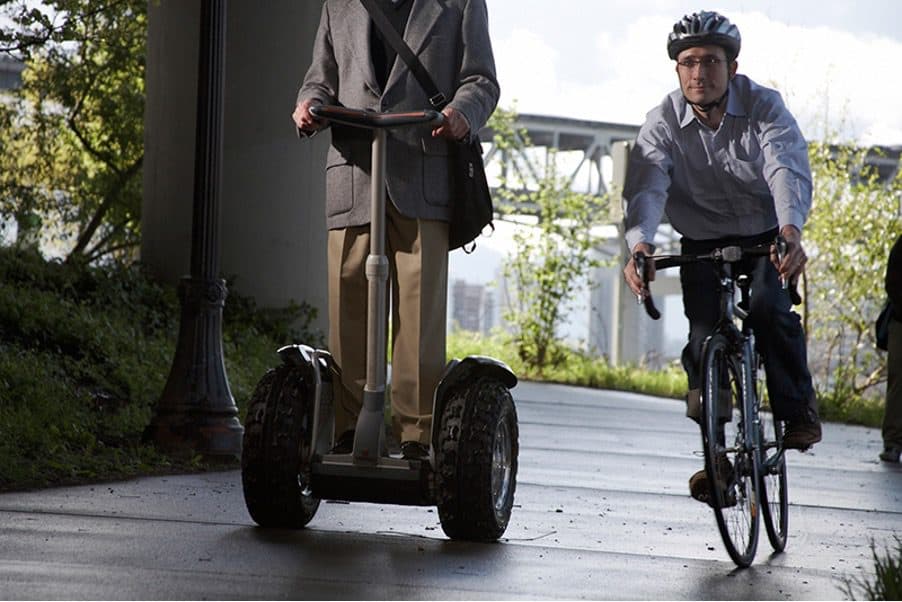 The Segway was a technologically amazing product, but a flop.
Does that sound a bit like other 'innovations' such as hoverboards and electric scooters that are supposed to revolutionize how we get around? The mistake that companies and entrepreneurs make over and over is developing products and services that are novel or technologically ground-breaking, but which do not create a leap in value for the people that are supposed to buy them. They may be technology innovations, but they are not value innovations.
"The mistake that companies make over and over is developing technology innovations, not value innovations."
Value innovation creates a leap in value (utility minus price) for customers while decreasing costs for the company. It is easy to create a leap in value at high cost, but an offering is truly innovative when it increases value for customers AND lowers costs to the company.
Struggling electric motorcycle companies vs Gogoro – the case for value innovation
Now think of all the electric motorcycle companies that are struggling. Are they offering potential buyers a leap in value compared to conventional gas-powered motorcycles? In most cases, no.
Electric motorcycles, in general, do offer some advantages over gas-powered motorcycles. They are quieter, eco-friendly (not spewing fumes), need less maintenance, and are cool. On the other hand, they are usually much more expensive to purchase, have a limited range, and take a long time to charge. They have some advantages but fall well short of providing a leap in value.
Companies are constantly trying to overcome the issues of limited range and long charging times by investing heavily in state-of-the-art batteries and charging networks. While this has produced some marvels of engineering and convenient charging, it comes at a huge cost to the companies. The resulting electric motorcycles are either too expensive to attract a mass of buyers or are attractively priced but cause irrecoverable losses for the company. In short, there is a lack of value innovation that increases buyer value while decreasing costs to the company.
Gogoro, on the other hand, is pursuing value innovation. They offer electric motorcycles priced in the range of their gas-powered counterparts while providing an infrastructure network available for people to conveniently and quickly replenish their batteries. And they have managed to do it at a lower cost compared to other electric motorbike companies.
How did they do this? Chan Kim and Renee Mauborgne's Four Actions Framework can show us how Gogoro is pursuing value innovation.
The Four Actions Framework – a practical tool for pursuing value innovation
The Four Actions Framework helps teams translate their ideas and insights into concrete, actionable options for value innovation. The framework is built on four key questions:
Which factors that the industry takes for granted should be eliminated?
Which factors should be reduced well below the industry standard?
Which factors should be raised well above the industry's standard?
Which factors that the industry has never offered should be created?
Gogoro's answers to these questions are summarized below in the Eliminate-Reduce-Raise-Create (ERRC) Grid. It shows the concrete actions that Gogoro took that were different than other companies in the electric motorcycle industry.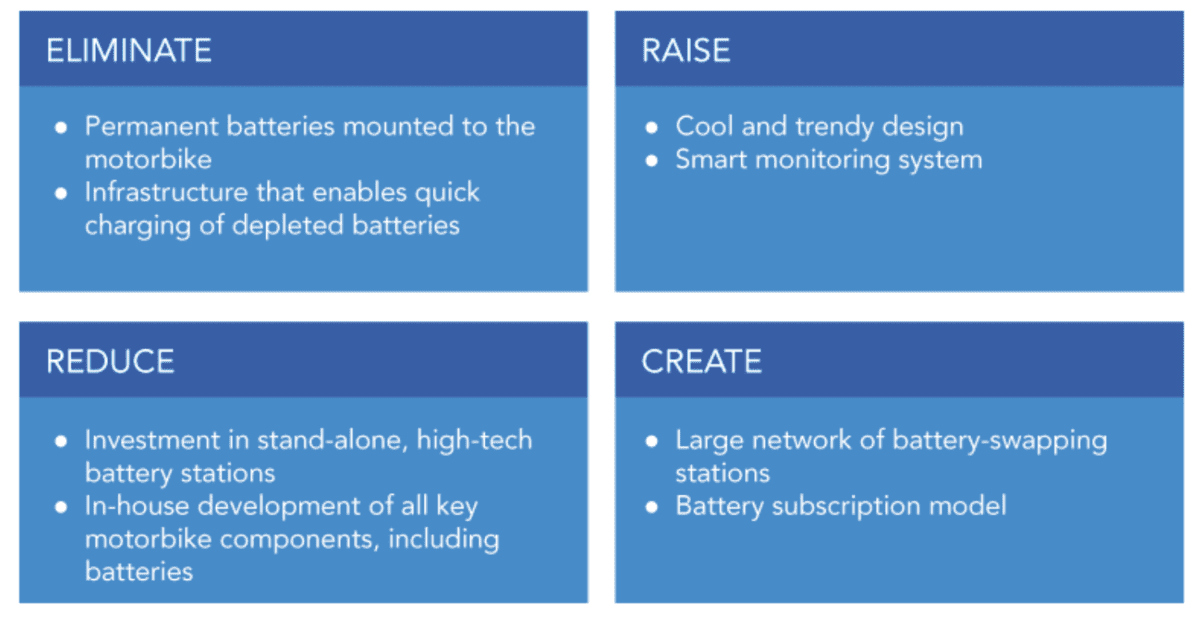 ERRC Grid for Gogoro vs other companies in the electric motorbike industry.
How Gogoro increased customer value while decreasing costs to the company
For electric motorcycles to represent a leap in value to customers over their gas-powered counterparts, it is essential that they are not severely limited in range due to battery constraints. But using long-range and/or quick-charging batteries with the necessary accompanying infrastructure is expensive. That is where Gogoro employed a clever new system.
Gogoro eliminated permanent batteries mounted to the motorcycles in favor of a new battery-swapping system. By doing so, the company also eliminated the need to build costly infrastructure that enables quick charging of depleted batteries.
Instead, Gogoro created a large network of battery-swapping stations and a battery subscription model that allows customers to swap out their depleted batteries for fully charged ones. And it only takes a matter of seconds to swap the batteries – much faster than putting gas in a motorcycle. And stations were extremely convenient, usually located within one kilometer of any given location within Taipei.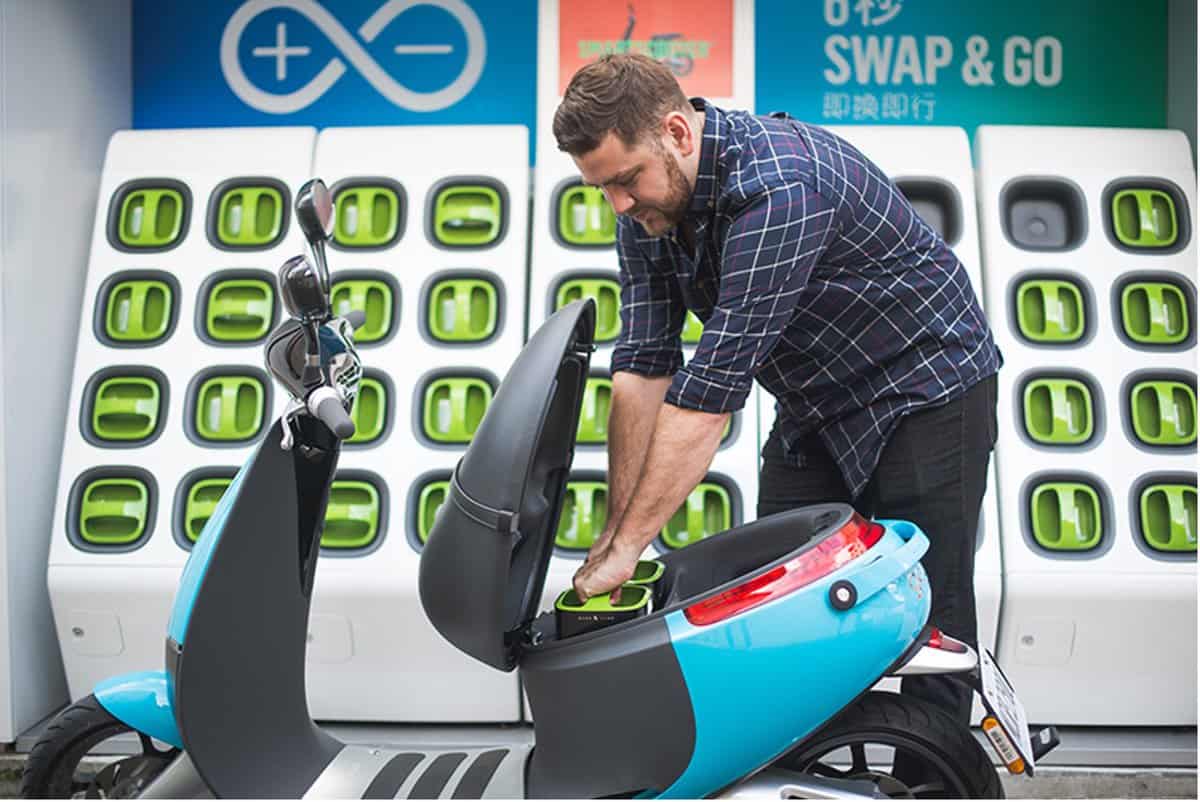 Gogoro battery station: users can swap their depleted battery for a fully-charged one in just 6 seconds.
To further increase value for its customers, Gogoro raised cool and trendy design factors such as LED headlights and edgeless digital dashboard that set its motorcycles apart from its conventional counterparts. It also deployed a smart monitoring system with onboard sensors that lets customers see all kinds of useful information about the bike on their smartphones while also acting as an anti-theft device.
To drive down costs, Gogoro reduced investment in stand-alone, high-tech battery stations. The company partners with businesses such as convenience stores to make their low-cost battery-swapping stations that are the size of vending machines widely available. To further limit costs, Gogoro decided to reduce in-house development of all key motorcycle components, including batteries, instead creating partnerships with companies such as Panasonic for the development of its batteries.
As the ERRC Grid shows, Gogoro raised and created factors that delivered a leap in value to its customers while simultaneously driving down costs by eliminating and reducing factors that other industry players were investing in. Value innovation – creating a leap in value for customers WHILE lowering costs to the company is what drives rapid and profitable growth.
"Value innovation – creating a leap in value for customers WHILE lowering costs to the company is what drives rapid and profitable growth."
The results of Gogoro's value innovation
Gogoro has rapidly grown the market for electric motorcycles in Taiwan. Before Gogoro, only a few thousand electric motorbikes were being sold annually. In the past three years alone, Gogoro has sold over 90,000 electric motorbikes and captured over 80% of the market. Now the company is poised to expand overseas to lucrative markets in Southeast Asia and India.
At the same time, it is building upon its leadership position in electric motorcycles by entering into new partnerships with large players such as Yamaha who plan to utilize Gogoro's battery-swapping technology and network of stations. This will help Gogoro cement its blue ocean position as one of the few companies providing transport energy solutions as it goes beyond merely competing in the electric motorbike manufacturing industry which is set to become increasingly red with competition.
These moves have led Gogoro to attract nearly US$500 million in investments, putting it on the path to becoming Taiwan's first unicorn with a valuation of more than US$1 billion.
Are you pursuing value innovation to explore new opportunities and avoid costly mistakes?
Are you part of the innovation process, either in your company or as your own entrepreneur? Can you answer "yes" to the following?
1. Have you clearly demonstrated how your innovation will create a leap in value for your customers beyond current offerings in the market?
2. Are you confident that the price you plan to charge for your innovation is attractive to a mass of potential customers?
3. Can you deliver your innovation at relatively low cost to ensure a healthy profit margin?
If your answer is "no" or "unsure" to any of the above questions, then your innovation efforts may be in trouble.
Just think about how many teams get caught up in developing a novel technology or product such as the Segway without first spending enough time to understand if it will be valued by people in the market, and at what price. Teams across the world waste huge amounts of time developing innovations that are doomed to fail from the outset.
But the key is identifying those innovations with the highest chance of success (or failure) before too much time and money are invested. The blue ocean concept of value innovation and tools such as the four actions framework can help you do just that.
By Gowrishankar Sundararajan & Tim Polkowski, Value Innovation Group
About the authors
Value Innovation Group (VIG) is a team of global blue ocean experts with vast experience in assisting organizations to shift from red oceans of cutthroat competition to blue oceans of new market space for rapid and profitable growth. VIG is a member of Blue Ocean Global Network, an international community of blue ocean practitioners