John Pateman, CEO of Thunder Bay Public Library in Ontario, Canada, argues that public libraries need to make a blue ocean shift to stay relevant in the digital age.
Why are libraries important and are they still relevant?
Most public libraries in Canada and elsewhere offer a mix of educational and leisure services, but they face severe challenges. Unable to compete in the existing market space, their traditional user base is shrinking year by year.
The main rival to public libraries is, of course, the internet. Big corporations like Amazon and Google offer many of the services that public libraries have traditionally provided.
Google opens up a world of knowledge available to anyone with an internet connection. Amazon, although more a seller than lender of books, offers its subscribers a digital lending library. And libraries cannot match its range of (often discounted) books, both physical and digital, and the speed of their of delivery.
In this red ocean of digital brands competing for people's time and attention, public libraries find it harder to attract users than ever before.
So what can libraries do to stay relevant and create new market space?
Looking across complementary service offerings: The example of community hubs
The concept of a 'community hub' has been around for some time in Canada and elsewhere. In the UK, the term 'one-stop shop' was used by local councils in the 1990s to describe a facility that brought a range of community services together under one roof.
Community hubs can act as a central access point for a range of health and social services, and offer cultural and recreational spaces to nourish community life.
Often, this community space is part of everyday life for families and their children. The familiar and friendly setting offered by a community hub is also the ideal environment for mothers, fathers and carers to get advice, training and other services.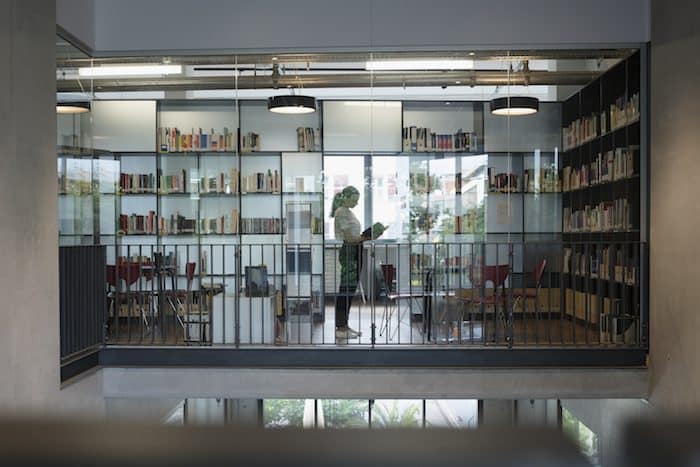 Why are libraries important? They can bring communities together.
Value innovation: Public libraries as community hubs
Public libraries are ideally suited to becoming community hubs and combining different services. As libraries already exist in many communities, the physical infrastructure is in place, eliminating the need to find or build new premises.
Bringing these community services together under one roof also increases operating efficiencies, and creates more convenience for consumers.
Furthermore, there is a natural alignment between the purpose, values and vision of public libraries and the concept of a community hub.
By taking the best elements of community hubs, and combining them with the services and infrastructure that libraries already have in place, public libraries can break the traditional value-cost trade-off, and deliver exceptional value to the community at low cost.
The Waverley public library in Thunder Bay, Canada, is an example. In addition to the usual library services, it has a 'makerspace' – an area in the library for making anything from Lego, to replacement parts with a 3-D printer and laser cutter, to repairing clothes with a sewing machine. There is also 'Hub North', a partnership with the North-Western Ontario Innovation Centre and Community Economic Development Commission. Hub North is a 'business incubator' where entrepreneurs and start-ups can grow their businesses with the resources that the public library can provide.
Public libraries and the Three Tiers of Noncustomers
Public libraries can reach beyond existing demand and attract noncustomers by transforming into community hubs. They can offer a powerful leap in value for members of the community, and create new demand, as shown in the blue ocean framework below.
Kim & Mauborgne's Three Tiers of Noncustomers of public libraries in Canada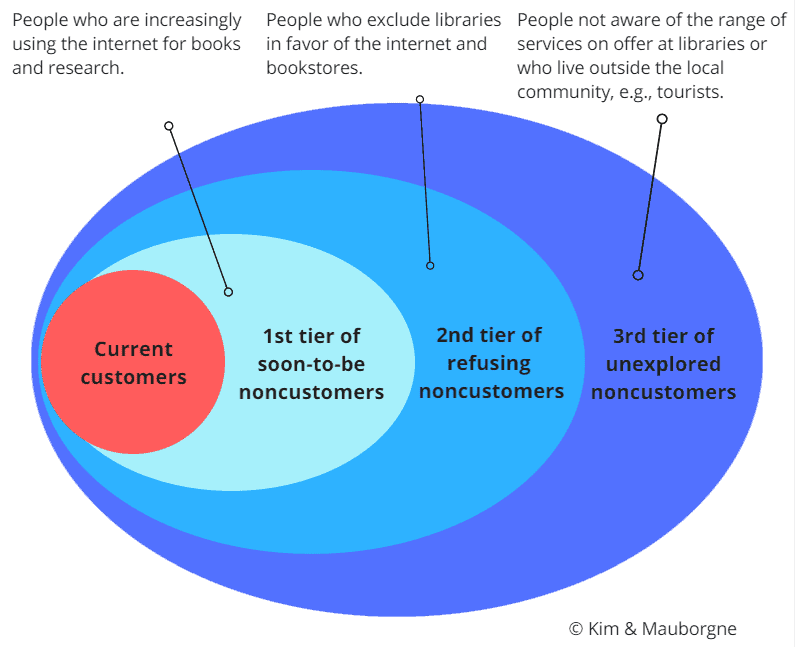 Vestibulum ante ipsum primis in faucibus o
By offering the first tier of noncustomers access to a wider range of services – including those associated with community hubs – libraries can retain these soon-to-be noncustomers.
The public library as a community hub can attract refusing and unexplored noncustomers by offering a wide range of library and non-library services – including those that cannot be found elsewhere. As we saw earlier, these might include things like 3D printing facilities, a forum for local entrepreneurs, and cultural events that can attract those from outside the local community.
Do we still need libraries? A blue ocean model of service delivery
Municipal authorities still invest in public libraries because they offer a freely available community service. But there is growing pressure to get a better return on this investment by offering a wider range of services – especially in partnership with other organizations.
By eliminating and reducing factors that public services usually compete on, and increasing the factors that add value to people's lives, public libraries in the digital age can secure a compelling future for themselves.