If you want to stand out from the crowd and make your competition irrelevant, you need to understand first where you are now compared to your competition. In this post, you will learn what the strategy canvas is, what benefits it has for your organization, and how to draw it using a template. Let's get into it!
What is the Strategy Canvas?
The strategy canvas is a powerful one-page, visual tool that depicts the way a business configures its offering to buyers in relation to those of its competitors. It is both a diagnostic tool and an action framework for building a compelling blue ocean strategy. It captures the current state of play in the known market space.
In one simple picture, the strategy canvas shows how businesses are currently competing and investing to stay in the game; what buyers actually get when they patronize the industry; and importantly, it also shows the strategic profiles or value curves of your company or organization and other major players.
The strategy canvas was developed by professors Chan Kim and Renée Mauborgne.
Read the strategy canvas definition on the blue ocean tools pages.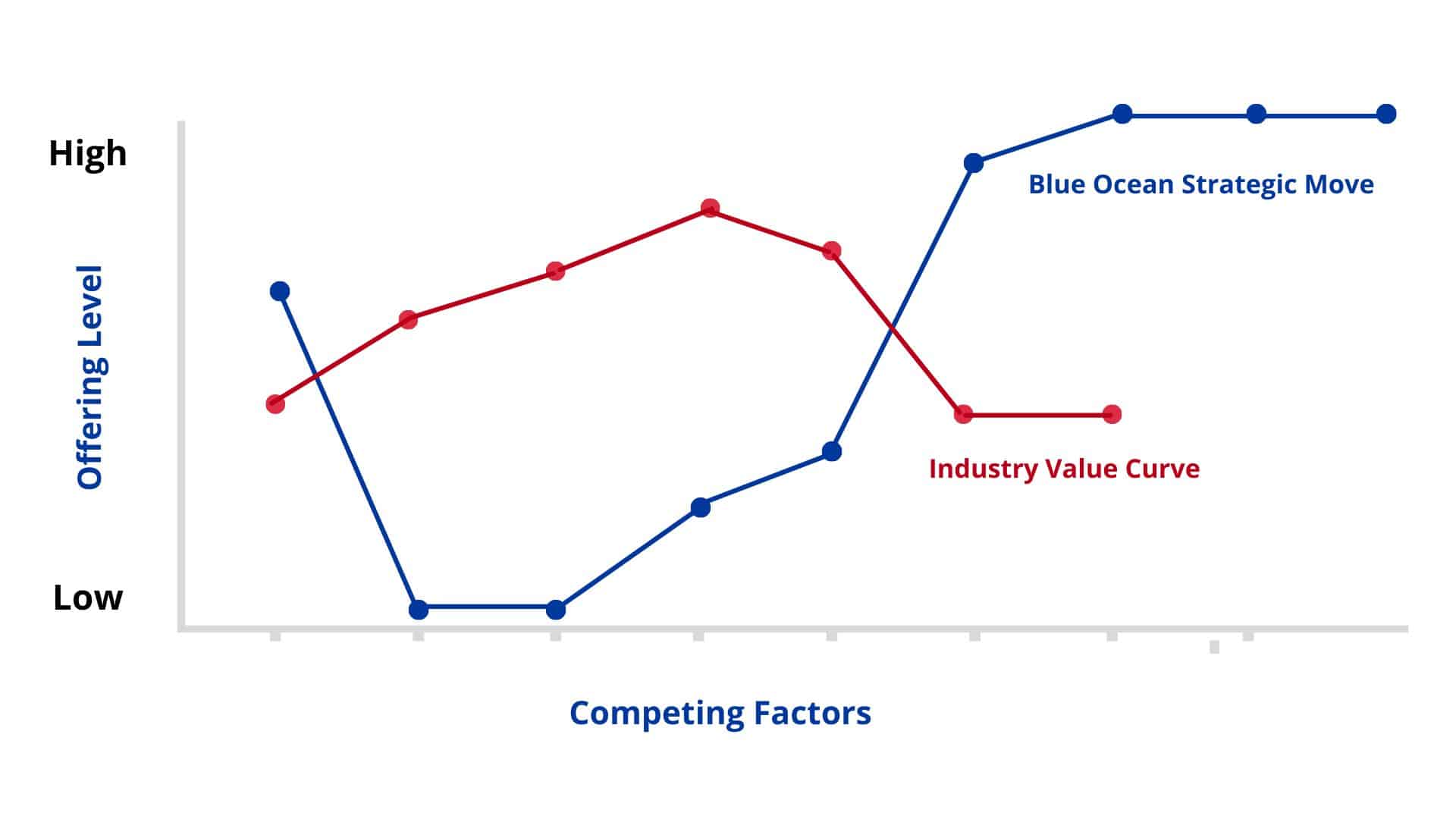 (C) Chan Kim and Renee Mauborgne. All rights reserved. 
The Benefits of Drawing a Strategy Canvas
Do you have one simple picture that captures your overall strategy, a picture that every manager understands and that puts everyone on the same page? Do you know what factors your industry or target industry competes on and invests in? Do you know what sets your product or service offering apart, and how it diverges from the competition? In short, do you and your team have an objective view of the current state of play in your industry?
Whether you are about to embark on a blue ocean shift, or simply want to make sure you truly understand your industry's status quo, having a clear and shared picture of the current strategic landscape is critical.
First, it ensures that you have a strategy, not merely a collection of tactics that may make sense individually, but don't add up and may even be contradictory. Second, it ensures that everyone is on the same page.
Only when people agree on what the current strategy and strategic landscape are, and see and agree on the clear need for change, will you create real alignment and inspire their willingness to act.
To learn more about the difference between strategy and tactics, read our post: Strategy vs Tactics: What is the Difference and Why it Matters.
How to Draw a Strategy Canvas
The strategy canvas has two axes. The horizontal axis shows the key factors of competition, starting with price. Here you list the key factors players in an industry compete on and invest in.
The vertical axis, by contrast, shows the offering level that buyers receive for a given factor. A higher level means that an industry player offers more, and hence buyers receive more.
By plotting the offering level delivered by the market leaders across each factor, and connecting the dots, you can draw – and see – the strategic profile or value curve of each player.
Step-by-step tutorial on how to draw a strategy canvas
1. Name the industry you are in.
2. For your selected businesses or chosen product/service offering, identify the key competitive factors your industry or target industry competes on.
3. Rate the relative offering level of each factor on the vertical axis using a 5-point scale. A relatively low offering level should be plotted lower on the axis, and a relatively high offering level should be plotted higher.
4. Connect the dots to create your as-is strategic profile or value curve.
5. Decide on the best player to plot your offering against and repeat the process. Select the industry leader or your strongest competitor.
Download Your Strategy Canvas Template
Rather than creating your strategy canvas in excel or making it in word doc, we prepared a strategy canvas template for you, which you can download from this page. The pdf template includes a table to list your key competing factors and a blank strategy canvas you can use for your industry.

Work with the Strategy Canvas Online
If you prefer making a strategy canvas online, check out Blue Ocean Studio™. It's an interactive and collaborative platform where you can draw your strategy canvas and collaborate with your team on your new strategy in real-time.
Formulate your business strategy with your team, communicate it to your stakeholders, and execute your strategic blueprint using Blue Ocean Studio™.
How to Create a Strategy Canvas in Blue Ocean Studio
Watch this brief tutorial on creating a strategy canvas inside Blue Ocean Studio™.
5 Strategy Canvas Examples
Visualize your strategy and stand out in a crowded market
Be sure to check out the Blue Ocean books for detailed guidance on how to draw the strategy canvas and use other blue ocean strategy tools and frameworks. The books will walk you through how to apply the tools to your situation, explain how to interpret the results, highlight the potential pitfalls in working with it, and discuss how to overcome those pitfalls to ensure your success.