How do you raise the profile of your entrepreneurial company? And how can you boost your ability to acquire funding to fuel the next growth stage? If your company is looking to gain international recognition and secure venture capital funding, get ready to apply for the Blue Ocean Awards.
The 7th edition of the international Blue Ocean Awards, an annual event recognizing entrepreneurial companies that strive to create blue oceans of new market space, just concluded.
Despite the challenges the global economy has faced due to pandemic, the 2021 edition of Blue Ocean Awards saw marked growth attracting more than 450 companies submitting their pitches and for the first time expanding internationally.
Since its founding in 2014 in Paris, France, the Blue Ocean Awards have expanded to Bordeaux and Lyon in France, and this year expanded to South Africa.
The Blue Ocean Awards were founded by the entrepreneur Alban Eral in collaboration with the French Ministry for the Economy and HEC Paris business school, and is supported by the roster of ever-growing sponsors from Michelin to Forbes France, Veolia, HEC Business School, MEDEF International, and many more.
To date, the Blue Ocean Awards tracking shows that the winners have experienced strong acceleration:
Over

 

90% of Blue Ocean Awards winners were financed

 

within 6 months of winning.
Within 3 years after victory,

 

winners' valuations have increased on average tenfold and up to 40 times, according to the founder of Blue Ocean Awards, Alban Eral.
Winners include

 

Compte-Nickel, which won in 2015 and was bought in 2017 by BNP Paribas for €225 million, and Scality, a world leader in cloud storage, in which Hewlett-Packard Enterprise invested $10 million six months after it received its Blue Ocean Award.
Check out this year's winners and get inspired to build products and services we all love, strengthen our economies, and make our lives better.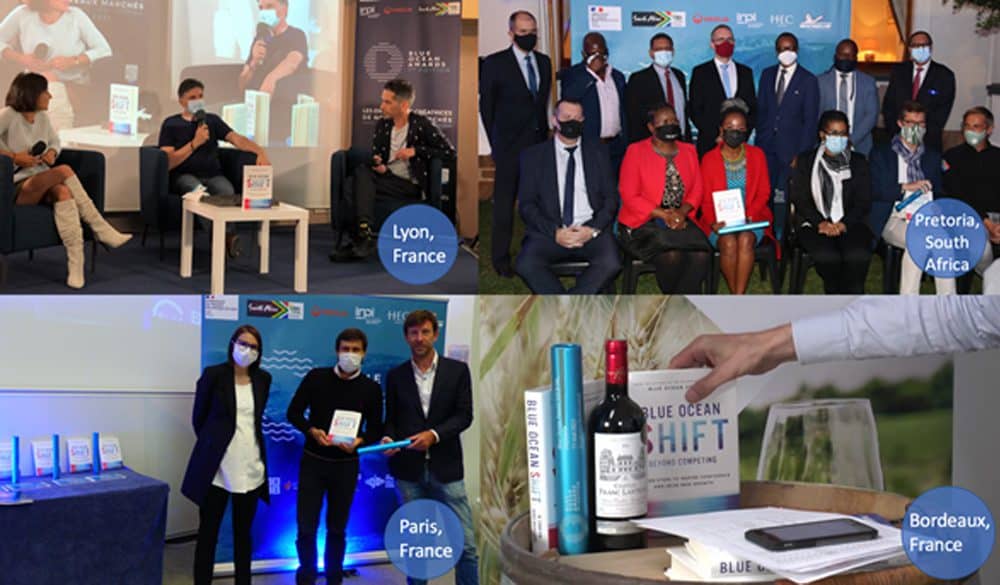 The winners of the 2021 Blue Ocean Awards
This year, 19 startups took home a Blue Ocean Award, with more than 450 companies taking part.
The awards fell under four categories: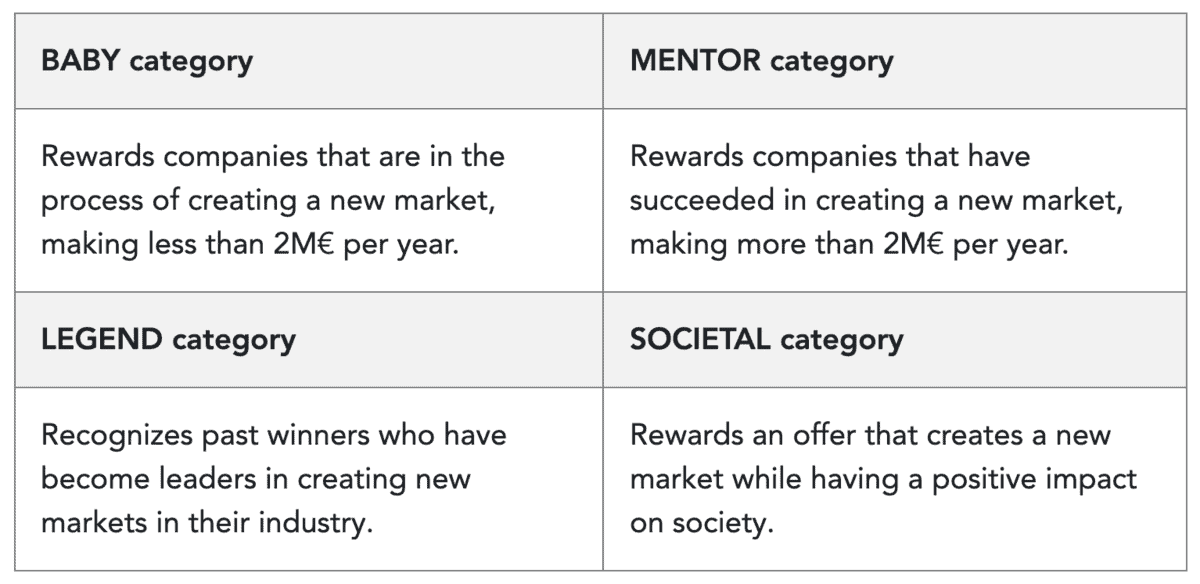 Michelin International Mobility Award Winners
Michelin, a new major sponsor of the event, presented its first Michelin International Mobility Award. They honored two companies with a strong potential to develop innovative services to make mobility safer, more efficient, more responsible, and more accessible. Thanks to this award, both startups will gain access to development programs and guidance from mobility experts at Michelin.
BABY category winner: TARMAC TECHNOLOGIES, operating in Europe and the United States, Tarmac Technologies connects airport industry players (airlines, airports, subcontractors and cargo-handling companies) with a unique, easy, 100% digital solution to track and optimize aircraft ground handling operations during stopovers, with the aim of reducing flight delays.
MENTOR category winner: SUN MOBILITY, operating in fourteen major cities in India, provides an energy infrastructure solution for electric fleets, consisting of Smart Batteries and Quick Interchange Stations, all connected together. The service is based on battery swapping technology that addresses key issues associated with electric mobility, such as costs, range, and recharging time, to speed up access to electric mobility, particularly in emerging countries.
The winners of the South African edition
The first South African edition was hosted by Emmanuel Suquet, representing the French ambassador in South Africa, and made possible thanks to Veolia South Africa, in partnership with MEDEF International.
Two categories for these awards: South African founders and the French founders based in South Africa.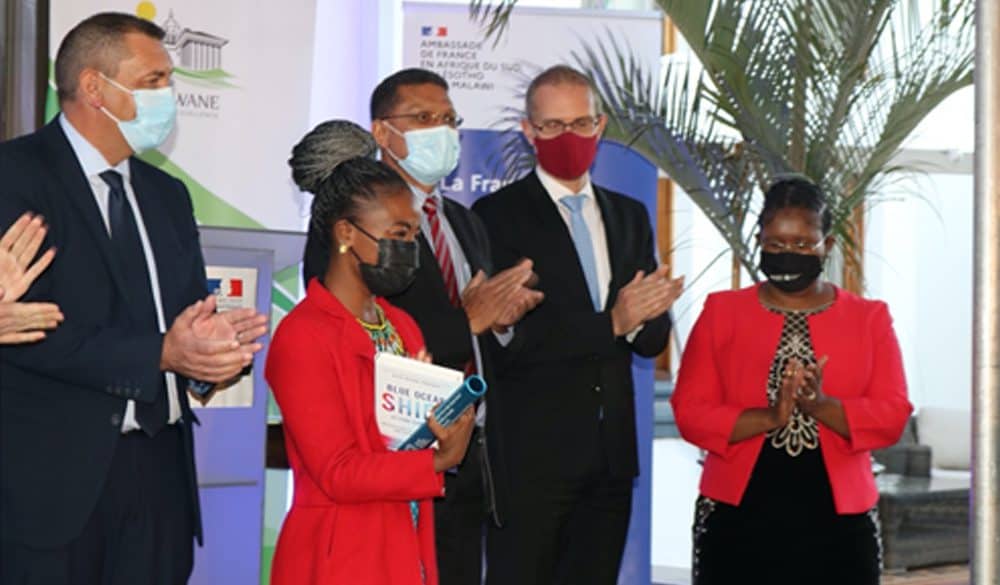 French Founders winner: Shopit – A mobile app that enables informal grocery store owners to compare prices at wholesalers, buy all their stock directly from their phone at the best price, and get delivered within a few hours, using a uber-like model that is creating jobs for local drivers. Shopit saves traders between 5 to 10% on the cost of their stock, increasing their income by 20%. They built a community of 4000 informal traders and their app is integrated with payment and logistic solutions and with wholesale management software.
South African Founders winner: Metsi a teng (formerly Blue Seed Organics) – Metsi a teng is a solution to two problems in South Africa and many parts of the world: water treatment and waste management. Using the absorptive properties of corn tassel, a type of organic waste that is discarded when corn cobs are harvested, Metsi a teng solutions purify water containing specific stubborn pollutants such as heavy metals. They produce corn tassel-infused filter taps, jugs, water bottles, and dispensers.
Turnaround man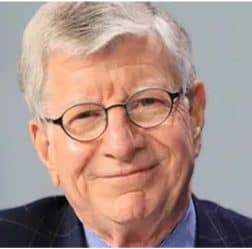 Peter Cuneo, Former CEO of Marvel.
Keynote speakers at this year's event include Peter Cuneo, former CEO of Marvel Entertainment, who took Marvel from bankruptcy to a key blue ocean player with the Marvel studios, making it the number one highest movie franchise in history. The representative from the French embassy of South Africa; the Executive Vice-President of the Michelin Group; and the CEO of Veolia South Africa also took part.
Blue Ocean Hackathon
Besides the competition, the day was a mix of speeches, roundtables, and a Blue Ocean Hackathon. Three teams were selected among the +200 students participating in the Startup Launchpad program/Digital Major of HEC to participate in the Blue Ocean Hackathon Final.
Students pitched the start-ups they built in 2 months only, using the blue ocean method and tools. Offerings ranged from teleworking platforms, sustainable live-shopping fashion and an eco-friendly neobank. The winner is Jamble and their innovative secondhand marketplace. Congratulations to Aymar, Louis and Paul!
Congratulations to all participants!
To get more details on the winners of the French edition click here.
Are you are an innovative blue ocean company or do you know one? Get involved and register here for next year's Blue Ocean Awards!