There is no limit to what one can achieve once you put your mind to it. This is what teenager Zuhal Sultan must have thought, back in 2008, when she turned to the internet with her unusual request asking for help to create a National Youth Orchestra in Iraq. A tweet to the Deputy Prime Minister of Iraq secured her $50K to get started. The internet also put Zuhal in touch with Paul MacAlindin, a Scottish conductor who was intrigued by the idea of starting an orchestra in Iraq and agreed to embark upon this journey with her.
National Youth Orchestra Of Iraq
With limited funds, a lack of educated musicians and a range of logistical barriers, setting up an orchestra in Iraq was not an easy task. Paul MacAlindin, who not only became the conductor but was also the strategic brain of the orchestra, turned to the concepts of blue ocean strategy and shift, created by Chan Kim and Renée Mauborgne, to make the project a success. It worked. Between 2008 and 2013 the orchestra held dozens of performances and achieved international fame. We spoke to conductor MacAlindin to learn more about this orchestra's unconventional and 'blue ocean' journey.
Paul MacAlindin receiving a Global Blue Ocean Shift Award on behalf of the National Youth Orchestra of Iraq in December 2017.
Why did you decide to apply a blue ocean approach to this project?
Paul MacAlindin: After accepting the challenge to create the orchestra, I quickly learned the hard truth: almost all National Youth Orchestras are highly established, western-centric and quite elite. Only the very best players of the respective countries are selected. Our competitors were Rolls Royces and we were a Mini.
We knew that, if we wanted to make this work, we couldn't just copy their strategy. We simply didn't have the means, the talent or the historical reputation to do so.
Blue ocean strategy was a key course in my MBA program and a personal eye-opener. Creating extraordinary value while keeping costs low was exactly what we set out to achieve with the orchestra. So when I was looking for a way to tackle our challenges, blue ocean strategy was the first thing that came to mind.
What were the biggest challenges you faced? 
Paul MacAlindin: As our musicians were based in Iraq, we faced huge logistical and educational barriers. Getting these young people out of Iraq to perform was a challenge, but even inside the country conditions were not ideal. Music schools didn't exist, so all of the players were self-taught. Another issue was the poor quality of instruments, with no place or the tools to maintain or fix them.
In essence, we had all the odds against us to be taken seriously. But we had a drive and determination that was beyond all the struggles. And ultimately the concepts of blue ocean strategy and shift showed us the way to overcome our challenges. Our competitors were Rolls Royces and we were a Mini. We knew that, if we wanted to make this work, we couldn't just copy their strategy.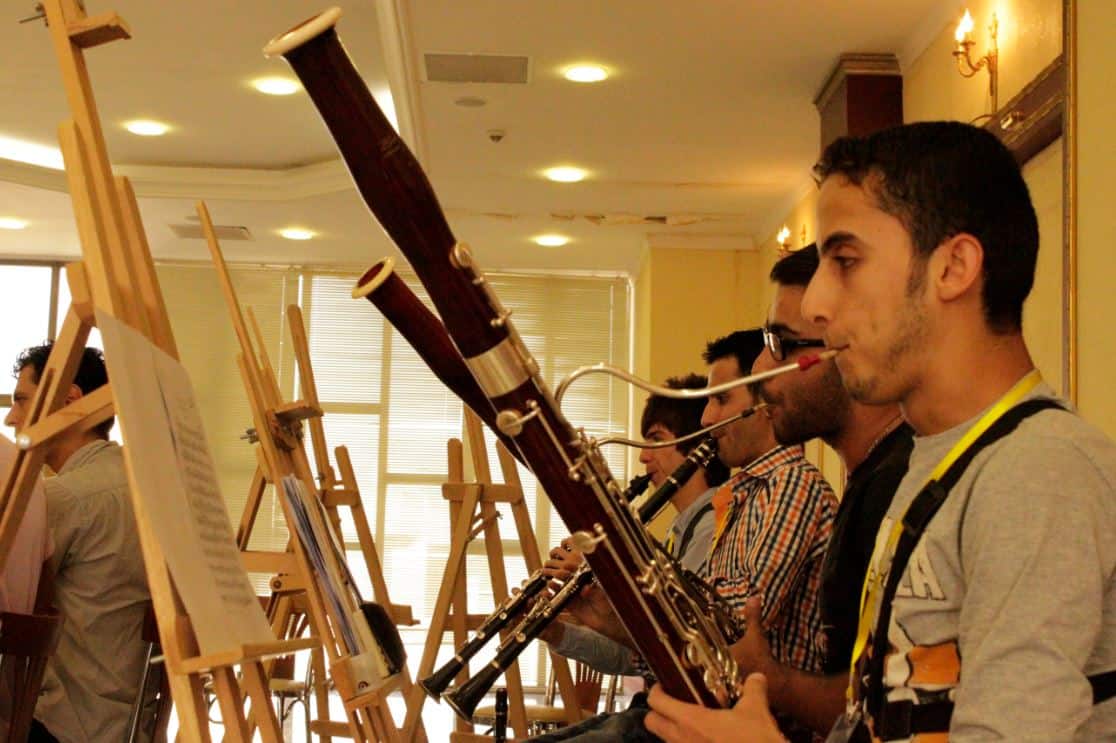 No music stands? Then musicians use easels instead.
How did the concepts of blue ocean strategy and shift help you to tackle these challenges?
Paul MacAlindin: When defining our strategy we made use of Kim & Mauborgne's blue ocean tool called the Eliminate-Reduce-Raise-Create (ERRC) Grid. This framework helped us to focus on the actions and values that would really make a difference for us, while cutting out those that carried more cost than value.
Finding something to ELIMINATE turned out to be easy. Traditional youth orchestras relied heavily on big names, soloists, to give status and visibility to their group. Since we did not have the financial means and our talent was poorly supported in Iraq, we decided this would not be a factor to drive our success.
Another big cost for orchestras is finding, educating and training musicians. Since we had no infrastructure available in Iraq, we turned to the internet for help. Our auditions were held over YouTube and individual lessons were done over Skype. By following this approach, we not only managed to REDUCE the cost of in-situ training, but we were also able to leverage the power of social media in the process.
One factor that we RAISED was partnerships. We partnered with established players, such as the British Council and the Beethovenfest in Bonn. They not only provided financial and reputational support but also brought us a large amount of media attention.
Ultimately what we CREATED was something unique in the world of youth orchestras. Traditional orchestras focused on the great masterpieces of classical music, but we did not want to limit ourselves to this. We got Kurdish and Arab composers to write music that would display the rich culture and traditions of the country. In every concert, we put Iraqi music on equal footing with Haydn, Beethoven and Schubert. We loved it, and so did the public.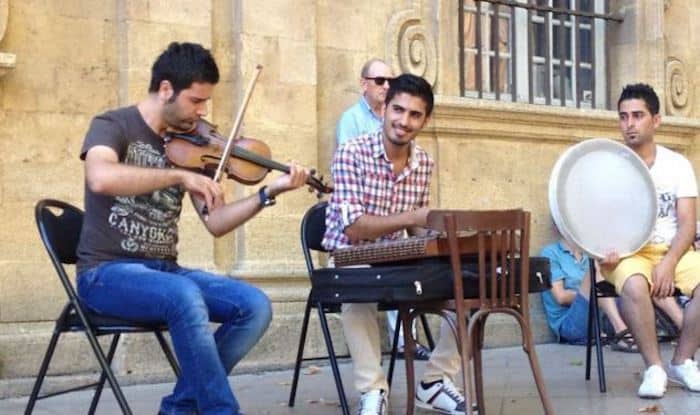 The musicians performing on the streets of France.
Sky News called you the "Bravest Orchestra in the World". What did you learn from this experience?
Paul MacAlindin: After 6 extraordinary years, our journey came to an abrupt end when ISIS came in and cut the country in half. Although the story of Iraq is tragic, the success of the youth orchestra shows a different side of the country. Our unique blend of Sunni, Shia, Kurdish, Arab, Turkomen, Assyrian and Armenian musicians underlined the power of being united. These young people are a symbol of the talent that is out there and the resilience that they demonstrate. Our message was one of hope. One that still can be heard today.
Waleed, the first flute, playing in Erbil, the capital of the Kurdistan region of Iraq.
It wasn't easy. To organize two weeks of performances it would take 50 weeks of preparation. Our journey was met with many hurdles, disappointments and relentless skepticism. Looking back at it now, I realize blue ocean strategy gave me the strength to persevere through our many dark days.
Watch the interview with Paul MacAlindin:
Paul's book, UPBEAT – the Story of the National Youth Orchestra of Iraq, was published by Sandstone Press on August 18th, 2016.