The 5th edition of the Blue Ocean Awards, a competition directly inspired by Blue Ocean Strategy | Shift, was held on November 6th at the Ministry of Economy and Finance. Co-organized since 2014 by HEC Paris, Axessio and the Directorate General of Enterprises (DGE), the Blue Ocean Awards rewards French companies of all sizes striving to create blue oceans.
This edition was yet again a great success with over 500 participants present to meet the finalists, exchange with them and discover their innovative offers. Over 400 applications were submitted and among the 19 finalists selected by the jury, 9 received an award.
The Blue Ocean Legend Award
The ceremony opened with a special newly created award, the Blue Ocean Legend Award, rewarding previous winners for their impressive performances. Two companies received this special award: Nickel and Alertgasoil.
Nickel (formerly called, Compte-Nickel), was the winner of a Blue Ocean Award in 2015 for having revolutionized the retail banking sector (Check-out our Case Study on Compte-Nickel).
In 2015, when Nickel first won the Blue Ocean Award,it had 121,000 clients and a growth of 11,500 clients per month. Now, three years later, Nickel has more than one million customers with 33,000 accounts being opened every single month, an annual growth rate of 65.5%. Such is its success that BNP Paribas, one of the largest banks in France, purchased Nickel in 2017.
Alertgasoil, a solution that can save users money while reducing their environmental impact thanks to their unique solution to measure real time fuel consumption,won a Blue Ocean MENTOR Award in 2017 and now less than a year later has tripled its workforce. It has already signed for 18 million euros worth of orders covering the next 4 years.
Blue Ocean Societal Award
The Blue Ocean Societal Award rewards an offer that creates a new market while having a positive impact on society. The 2018 winner is Yogist, a young company offering yoga sessions adapted to the business environment:no need to change your clothes, no need to carry your mat, and no need to even move from your office chair. Created in 2015, Yogist has already been adopted by leading companies like Cartier, KPMG, Vinci, LVMH, Siemens, BNP Paribas, BMW, The Boston Consulting Group… and many other prestigious organizations.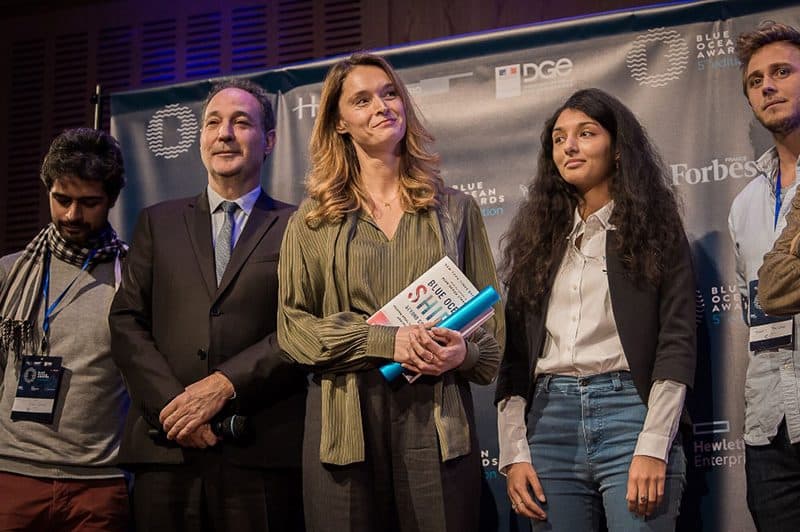 Anne-Charlotte Vuccino, CEO of Yogist receiving her prize.
3 Blue Ocean MENTOR Awards
The Blue Ocean MENTOR Award rewards companies that have managed to create a new market, while making more than 2M € per year.
Already winner of a Blue Ocean Baby Award in 2016, TraQ'food received this year a Mentor prize. Founded in 2015, TraQ'food's digital application simplifies the daily management of the Sanitary Control Plan for caterers and restaurants. Adapted to any type and size of business the application offers various features such as label trace ability and temperature reading sensors that allow companies to digitalize documentation, be compliant with regulations and automate supply chain management. In early 2018, Mérieux NutriSciences, a Chicago-based company with 100 laboratories spread across 22 countries, acquired a majority shareholding in TraQ'food.
The next company to receive a Blue Ocean MENTOR Award is Bird Office,a simplified way to organize a corporate event. The platform offers spaces to rent for corporate training, seminars, conferences, or individual workstations. It allows people to find and book the ideal place from a wide choice of 8,500 spaces made available via exclusive partnerships with key players in the professional real estate sector. Bird Office offers a turnkey corporate service, allowing clients to book spaces that include full catering service (breakfast, lunch, cocktail, etc.) and other additional services. The company just raised €5M in funding.
The last Blue Ocean MENTOR award is Virtuo, a new generation car rental platform that allows clients to book, open and drive a car with an App. Launched in 2016, Virtuo is available in 26 train stations & airports and 10 cities. Business travelers have access to its offer in the main railway stations and airports in France (Paris, Lyon, Aix-en-Provence, Avignon, Nice, Toulouse, Bordeaux, Lille) as well as in Brussels and London.
5 Blue Ocean BABY Awards
The Blue Ocean Baby Awards reward five young and very promising companies. The 2018 winners are: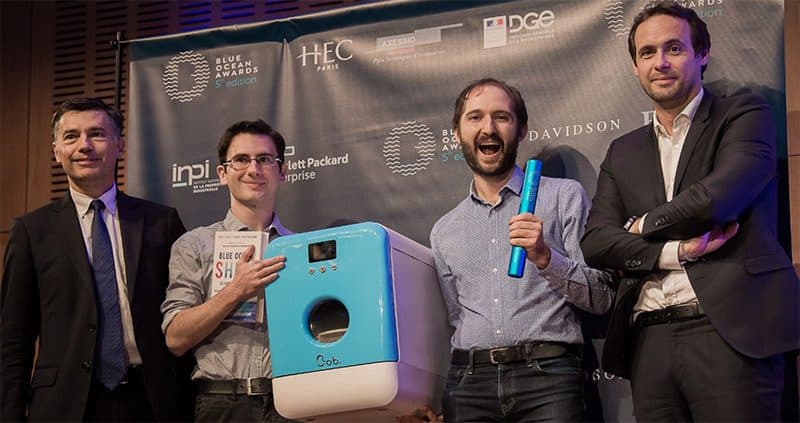 Damian Py, CEO of Dann Tech and Antoine Fichet, COO of Dann Tech receiving their prize, carrying Bob.
2 Blue Ocean HACKATHON Awards
The ceremony ended with the Blue Ocean HACKATHON Award rewarding a project, developed by students from HEC Paris and CentraleSupelec that has the potential to create a new market.
This year two projects tied for first place:
Cryptio

 

(HEC Paris), an accounting & tax solution for cryptocurrencies.
Top-Models.fr

 

(CentraleSupelec): Select an algorithm, download and deploy it in your system with a few clicks.
Congratulations to all the winners and rendez-vous in 2019 for the 6th edition!
Thanks to the Ministry of Economy and Finance for supporting and graciously hosting the event. Thanks to the three key organizers HEC Paris, Axessio and the Directorate General of Enterprises (DGE). And thanks to the long-term sponsors Hewlett Packard Enterprise, Forbes, Bred, Carrefour, EDF, INPI (National Institute of Industrial Property) and to many others.
Click here to watch the entire ceremony (In French).