Shake Shack, the gourmet fast-food chain, started out as a hot dog stand in New York City in 2001. Today, it has become a global phenomenon with 180 locations globally and is expanding all the time. So how did it create a new market in the fiercely competitive restaurant industry? Our analysis shows they took a blue ocean approach.
The Restaurant Industry in the United States
Restaurant industry sales in the United States have been growing over the past decade and exceeded US$536 billion in 2016. US$259 billion was attributed to the full-service restaurant sector, which includes premium restaurants and fine dining. The limited-service restaurant sector represented US$223 billion of sales. These include the traditional fast food outlets like McDonald's and also the newer category of gourmet fast food outlets – like Panera Bread and Shake Shack.
The restaurant industry can be segmented into three major categories:
1. Full-service (premium) restaurants
Premium restaurants represent 48% of the industry but it is a highly fragmented market, consisting of many small businesses rather than a few big ones. Market players strive to maintain a reputation for delivering a unique, satisfying and memorable customer experience. Even if they can afford to expand and open new restaurants, they are often reluctant to because it may negatively affect this reputation in the perception of customers.
The main advantages in this category are that customers are willing to pay premium prices for the high-quality dining experience on offer. However, the fragmented nature of this market means customers can easily find substitutes and new restaurants can enter the market relatively easily. Also, premium restaurants do not have strong bargaining power with their suppliers. In many cases, the ingredients used are scarce, forcing premium restaurants to accept prevailing market prices.
2. Limited-service fast food restaurants
This category of restaurants is huge. Nine out of the top ten restaurants in the United States by revenue come from this category. Despite its huge size, it represents a typical red ocean market dominated by McDonald's for now. The success of these companies is largely dependent on huge media expenditure and economies of scale. Customers have plenty of fast food options to choose from, making price an important competitive factor in this category. Not surprisingly, the fierce rivalry among competitors is accompanied by high marketing budgets.
However, players in this category have two advantages. First is the high barrier to entry – new fast-food restaurants simply cannot compete on the economy of scale or brand recognition of established chains. Second is the weak bargaining power of their suppliers – fast food restaurants can negotiate the best deal as there are so many suppliers of meat, flour, and potatoes to choose from.
3. Premium fast food restaurants
Premium fast food is a hybrid category that combines high-level customer experience and convenience with moderate price. In general, players in this category open restaurants based to satisfy certain market niches. For example, Panera Bread, the largest restaurant in this category, targeted customers demanding healthier options that used fresh and organic food. Other players sought to reduce menu choices and improve quality such as the hamburger chain, Five Guys. Customers are generally the young middle-class segment that can afford to pay a relatively higher price for fast food.
Shake Shack Success Story
So how do you compete with the category killer such as McDonald's with 34,000 restaurants? Or with a premium niche player that relies on higher pricing for premium food in the fast-food category like Five Guys or Panera Bread? By not competing, but rather by creating a new market space through the simultaneous pursuit of differentiation and low cost. And that is what Shake Shack did.
The three tiers of noncustomers
It all starts with shifting the focus from better serving customers of an industry to identifying and converting noncustomers into customers. Shake Shack was able to attract three groups of noncustomers of premium fast-food restaurants, as specified in Chan Kim & Renée Mauborgne's three tiers of noncustomers framework.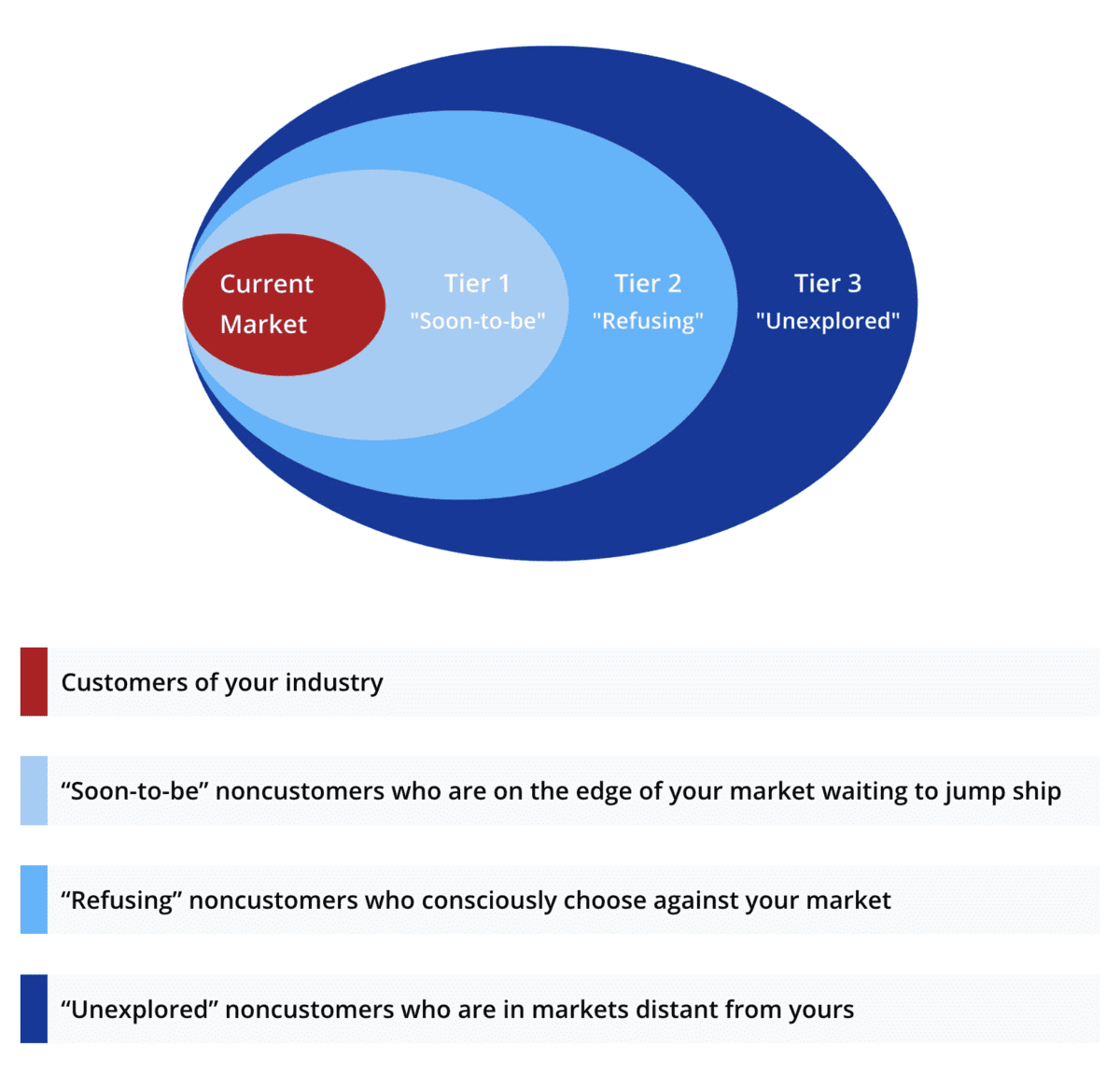 © Chan Kim & Renée Mauborgne.
First-tier noncustomers
The first-tier of soon-to-be noncustomers for the premium fast food market are sitting at the edge of the market. They do want healthier fast-food options and a higher-quality customer experience but are not the premium pricing that comes with these. They tend to seek cheaper restaurant options and may visit fast-food outlets such as McDonald's, Subway and Burger King.
Second-tier noncustomers
The second-tier are refusing noncustomers. They refuse the premium dining experience because of its price. They want a nice place to hang out with their friends in an atmosphere that does not feel like a standardized food chain and comes without the hefty price of premium dining.
Third-Tier Noncustomers
The third-tier are unexplored noncustomers. They usually do not even consider going to fast-food restaurants but rather choose bars to stay out late and enjoy a drink or more with friends.
Factors Shake Shack Eliminated, Reduced, Raised and Created
To unlock these tiers of noncustomers Shake Shack created a new uncontested market space in the fast-casual food space. It did so by answering four basic questions that are at the core of the blue ocean approach.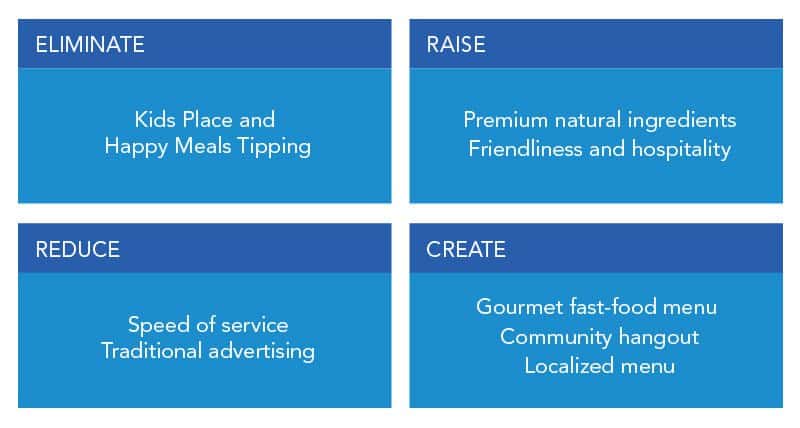 © Chan Kim & Renée Mauborgne.
1. What factors should be eliminated that the industry has taken for granted?
Kids Place and Happy Meals: Shake Shacks are built to feel more modern and grown-up than the cartoony, red-and-yellow-decorated fast food chains that lure kids with happy meals, toy gifts and play places. Whether it is the quiet green and black color scheme, a modern sleek logo, or an open kitchen layout that is visible upfront rather than hidden in the back, Shake Shack attracts the millennial adult who is willing to pay more for an informal and comfortable dining and hangout experience. Gone are the costs associated with building play places and offering happy meals.
Tipping: Shake Shack has also eliminated tipping, offering customers a worry-free dining experience. The company compensates employees by providing above average compensation and benefits. From a psychological perspective, this attracts more customers and makes Shake Shack distinct from the local bar and grills where tips are standard.
2. What factors should be reduced well below the industry standard?
Speed of Service: Fast food restaurants emphasize speed over customer care – a critical factor in the fast food industry. But not Shake Shack. In a functional-oriented fast food restaurants industry, Shake Shack is thriving by creating emotional experiences for its customers. Factors like speed and price, which are so important to fast food players, became secondary to more significant aspects that customers care about.
Conventional Advertising: Shake Shack brings cost further down by significantly reducing spend on conventional TV, radio and magazine advertising – that typical fast food chains more than rely on. Instead it focuses its effort on reaching millennials via social media. This significantly reduces their marketing spend compared to traditional fast food chains. The fulcrum of its social media strategy is user-generated content – a strategy that has helped the brand amass hundreds of thousands of fans and followers who help the company spread its concept and story in their communities. Social media plays an important part in making customers feel that they are part of the Shake Shack brand through fun online interactions while Shake Shack uses these interactions for data analytics to better understand customer expectations and improve their product and service offerings.
3. What factors should be raised well beyond industry standard?
Premium natural ingredients: Shake Shack's premium natural ingredients are at the center of its identity, both because of how the food tastes and because of their pedigree: 100% all-natural meat (vegetarian fed, humanely raised, antibiotic and hormone free, source verified, ground fresh from full-muscle cuts rather than scraps), non-GMO vegetable produce, zero artificial additives, real sugar instead of corn syrup and milk from dairy farmers who have pledge not to use artificial growth hormones.
Friendliness and Hospitality: At the center of Shake Shack's mission is CEO Danny Meyer's philosophy of "enlightened hospitality", where the idea is to create a welcoming atmosphere first for employees, next for customers, and then for the outside community, suppliers, and, finally, investors. Shake Shack's emphasis on hospitality and friendliness is evident in its hiring policy that lists "fun, intelligent, super friendly, high energy individuals" as requirements for hiring staff, rather than the usual pedigree and experience. This is based on its belief that friendly workers take good care of customers and will bring them back. Staff, who are called team members, are paid on an average $2 above minimum wage paid to workers in other fast food chains. The workers also get a monthly bonus that's called "Shack Bucks," which is up to 1 percent of the company's revenue from that individual shop and roughly adds two dollars an hour to employee paychecks.
Shake Shack invests heavily in staff training to make sure all staff offers a high level of customer service. The result is a better overall customer experience that goes beyond the mere purchase of a hamburger. In this way, Shake Shack successfully gained those customers who used to go for cheaper options. Many of Shake Shack's executives have been groomed from within, and it's not uncommon for hourly employees to get bumped up to a manager, general manager, and beyond. Opportunity, then, is a big part of the company's strategy to attract the best talent who have an opportunity to prove their excellence, friendliness to customers and have a real future with the company.
4. What factors should be created that the industry has never offered?
Gourmet Fast Food: "Shake Shack is just an ordinary fast-food joint, said nobody ever", writes a food critic. Shake Shack takes the cake for gourmet fast food classics, offering a modern-day take on retro roadside burgers, fries, hot dogs, frozen custards, shakes, and more. Shake Shack disposed of the notion that fast food had to be precooked or even prepared quickly. Instead, it focuses on quality ingredients and enjoyable customer experience and is known for a fast-casual environment where people do not mind waiting in long lines for fresh and cooked to order food. Shake Shack restaurants are appearing in more and more cities across the world with always evolving localized menus with some items that are exclusive to each Shack. At Shake Shack's newest burger-and-shake joint that just opened in New York's West Village on Tuesday, customers can order—in addition to its classic menu—new items like chick'n bites, black sesame shakes or cold brew matcha lattes that no other Shake Shack location in the U.S. serves yet. And to celebrate Shake Shack's 10th anniversary, it recruited five celebrity chefs to create five special edition burgers bringing brand new excitement to its customers. Offering high-quality craft beers and specialty wines further propels Shake Shack to a new frontier. By offering alcohol and staying open until midnight, Shake Shack attracted customers who want to enjoy alcohol with their burgers, as well as those who just wanted to have a drink with friends.
Community Hangout: In 2001, Shake Shack debuted as part of an art project for the community in New York's Madison Square Park. Community has since been the keyword for Shake Shack, and throughout the years, it has strived to become a community gathering place with its motto being 'the bigger we get, the smaller we need to act'. Unlike traditional fast-food chains, Every Shake Shack location is specifically designed with a unique aesthetic to fit contextually into their neighborhood but with essential branding elements repeated to maintain the restaurant's essential character. Additionally, Shake Shacks are designed to feel as lively on the outside as they are inside. Ping-Pong and foosball tables, bocce courts, giant life-size puzzles, local art installations all encourage customers to hang out longer. This generates a sense of locality and authenticity for Shake Shack's stores, exuding the charm of a local mom-and-pop shop. This combination of your local restaurant and a typical fast-food franchise creates a brand new experience bringing in customers, who may not be attracted to either category.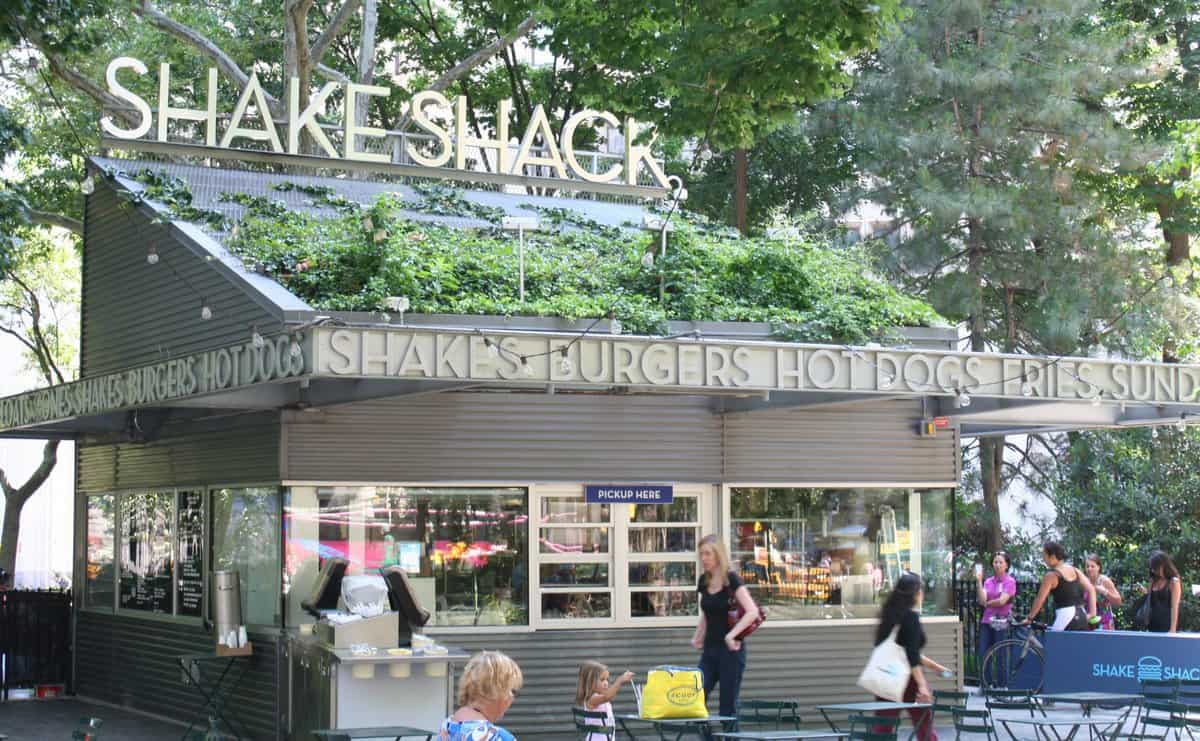 Blue Ocean thinking has led to the shake shack success story.
Shake Shack's Blue Ocean Strategy
With pricing that is just slightly more than the typical fast-food burger like McDonald's, Shake Shack's offering is irresistible for an increasingly large group of American diners, especially those between the ages of 18 and 34, who are willing to dash out dining dollars on good quality food. Millennials are also socially conscious and demand that companies they patronize be socially responsible. Shake Shack addresses this point not only by having environmentally friendly products but also through a corporate policy that supports local communities and doing good.
The result is a full dining and drinking experience that is both fun and affordable. People flock to Shake Shack as a place to socialize rather than just another dining option. Shake Shack's blue ocean strategy has enabled it to achieve double-digit growth at a time when most market players are struggling to maintain modest growth. For now, Shake Shack is in full swing and expanding its operations around the world. But to stay ahead of the game, the burger giant will need to find new ways to renew its blue ocean.