In June 2018, Ted Dacko was appointed Executive Director of the Blue Ocean Entrepreneurship Competition for high school students. Dacko is perfectly suited to this role. In his former role as CEO of HealthMedia, Dacko applied the blue ocean approach and tools to shift the company from a once-struggling $6-million-dollar company to one worth $185 million in just two years. And all that during the 2007-2008 global financial crisis.
Ted Dacko's commitment to blue ocean principles and his vast entrepreneurial experience have been hugely beneficial in taking the competition to a new level in the 2018-19 year, which just concluded. As Executive Director, Ted has successfully transitioned the Blue Ocean Entrepreneurship Competition from a high-school student-led competition to a professional organization.
Here Dacko shares his vision for the competition.
The Blue Ocean Team: This has been your first Blue Ocean Entrepreneurship Competition, what is your thinking about the pitches you watched?
Ted Dacko: They were outstanding this year. I was very impressed. Some of the pitches from these high school students are actually better than some of the professional pitches out in the marketplace. There were over 550 students who participated and around 250 pitches, as some of these students were on teams. Half of them were really outstanding. Fortunately, I was not a judge. I ended up recruiting successful entrepreneurs as judges from across the country. I'm glad I didn't have to choose the winners as many of the pitches were so good.
Why do you think it's so important to educate and inspire high school students about entrepreneurship and using the Blue Ocean strategy concepts?
Teaching young students how to start businesses that break out of the red ocean of bloody 'me-too' competition is just imperative to keep our innovative pipeline going. That includes teaching young students more about how to generate and pitch blue ocean ideas and get them off the ground. That's essential if we're going to remain a competitive force in innovation around the world. It's a requirement for the US and for the world as well.
There are other high school competitions on business in the United States. How does the Blue Ocean Entrepreneurship Competition stand apart?
For one thing, the Blue Ocean Competition grew to become the largest entrepreneurial competition in America that was created and supported by high school students. That's something for high school students to be very proud of. The competition was founded by Nicholas Benavides, who was a high school student and is now at Stanford.  Hat's off to Nicholas for his vision and leadership.  It was only last year that the decision was made to bring in professional leadership as the national scope and logistics involved in running the competition became infeasible for high school students given their many school demands.
I came onboard to help the competition grow. I also applied a blue ocean approach to this competition. We drew a strategy canvas to find how we were going to stand apart from other competitions and do it in a way that was low cost and not too time-consuming for high school students. For example, we found out that most of the other pitch competitions are face-to-face, in-person competitions and local rather than global. We were looking for an entirely virtual competition. We wanted to involve high schools' principals and teachers so as to embed the competition into their schools. This is exactly what has started to happen in this past year.
We also went after the three tiers of noncustomers, particularly students who didn't have a competition available in their local area or students who may have been reluctant to participate because they didn't want to do a face-to-face pitch. The result has been not only an increase in the number of submissions but also the number of countries outside of the US that are now participating.
What is super exciting as well is how high school teachers are getting passionate about building the competition into their classrooms and curriculum. They have found that doing so creates a real win for the teachers, the class and student learning as a whole.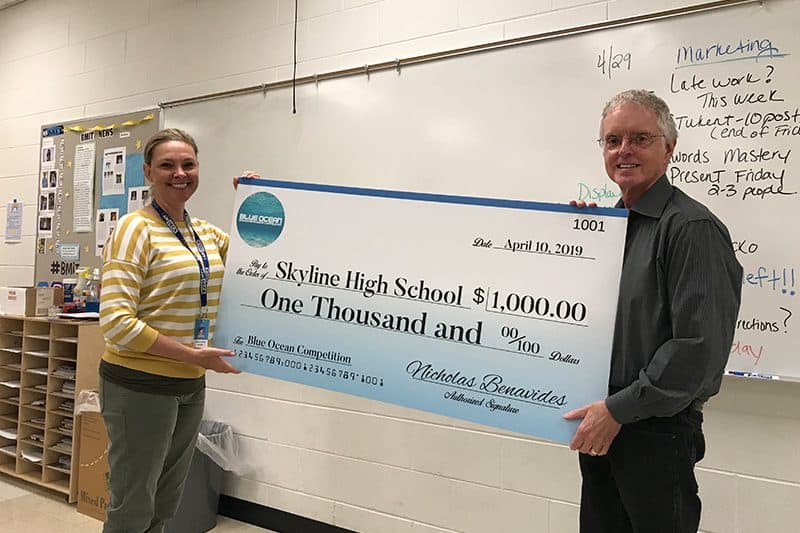 Ted Dacko, The Executive Director of the Blue Ocean Entrepreneurship Competition.
The number of countries participating is soaring. Tell us more about the growing interest from countries outside the United States.
I was delightfully surprised by the number of countries that came to us to join the competition. We didn't reach out to them. Schools, teachers, and high school students in other countries found us organically through search engines and via the global popularity of Blue Ocean Strategy and Blue Ocean Shift, which are bestsellers across the world. Two of the international pitches, one from Denmark and one from Canada, finished in the top 6.
I have already been contacted by many new high schools in countries around the world asking me if they could participate next year. They did not participate this year, but they were really excited about joining this competition. While the competition started out in the US, I'm expecting that we're going to see this competition become even more global going forward.
You are now the Executive Director of the Blue Ocean Entrepreneurship Competition. What inspired you to make the commitment and join the competition?
I'm passionate about blue ocean concepts and I've read Blue Ocean Strategy and Blue Ocean Shift extensively. In my career, I used blue ocean strategy principles to turnaround my company. Now I work with entrepreneurs all the time and show them how to implement blue ocean thinking to stand out from the competition.
I was intrigued by the idea of going upstream and working with high school students. It was an interesting opportunity and it became an interesting exercise for me. I wanted to see whether I could use any of my skills to make this competition grow and see what I could do to enhance it and help high school students in the United States and beyond become better entrepreneurs.
What is your vision of the future for this competition?
Our aim is to bring this competition to every high school in America, ensuring that these smart, innovative youth are fully prepared to enter the entrepreneurial marketplace armed with the proven blue ocean strategy skills. In just the last year the competition has enjoyed an almost four-fold jump in submissions, which is pretty incredible.
I want to see this growing exponentially. We now have high school principals and teachers embedding the competition into the classroom, and we want to increase that. I'm dreaming of colleges and universities asking students if they participated in the Blue Ocean Entrepreneurship Competition during the admission process.
I'd like to see Blue Ocean Student Entrepreneur Clubs spring up all over the country. I would like to turn this organization into something as big as Girls Who Code or any other big national prestigious organization that is global. That's the vision. I'm trying to make it happen.