Top 8 High Schools with the Most Submissions
Irvington High School, Freemont, CA, USA.
Ward Melville High School, East Setauket, New York, USA.
Spanish River Community High School, Boca Raton, Florida, USA.
South Brunswick High School, Monmouth, New Jersey, USA.
Herningsholm Erhversgymnasium, Herning, Denmark.
Barrington High School, Barrington, Il, USA
Dougherty Valley High School, San Ramon, CA, USA
Monte Vista High School, Cupertino, CA, USA
Top High School most Pitches in the Top 30
Thomas Jefferson High School for Science and Technology, Alexandria, VA, USA.
Congratulations to all the winners!
Warm thanks to the judges and to the teachers involved for guiding your students.
And big thanks to all the participants. You may not have won this year, but we hope you had fun getting your innovative ideas heard, and learned a lot in the process. You are an inspiration.
Last but not least, a VERY special thanks to Ted Dacko, the Executive Director of the Blue Ocean Entrepreneurship Competition, for leading this incredible competition.
For all high school students who are not graduating this year, stay tuned and register for next year's competition!
Watch the playlist to see all of the Top 10 pitches:
The Competition's Vision for the Future
Ted Dacko, the Executive Director for the Blue Ocean High School Entrepreneurship Competition for the last 3 years has a goal to bring the competition to every high school in America and to every country in the world, offering smart, innovative young people the opportunity and incentive to create business ideas that can change the world.
The Blue Ocean High School Entrepreneurship Competition was started in 2014 by Nicholas Benavides, a high school student in Maryland, before going on to Stanford University.
The popularity of the student-run competition saw it grow leaps and bounds such that the students turned it into a formal nonprofit, bringing on board professional leadership.
What students have to say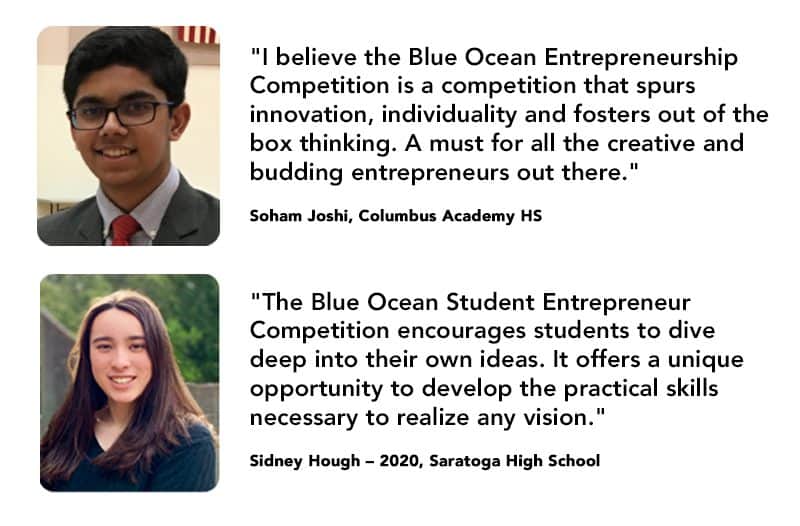 What teachers have to say