Boyan Slat is a 23-year-old Dutch inventor who doesn't believe in modest solutions to big problems. And the problem he has chosen to tackle is a huge one: ocean plastic pollution. It all started six years ago when Slat saw an opportunity where others only saw constraints.
It would take 80,000 years to clean up all the particles of ocean plastic pollution using conventional means. That's because the pollution is constantly moving with the currents, and trying to collect them all with nets is a losing game.
When he was just 18, Slat explained in a TEDx talk why he thought that the currents could be used to help clean up ocean plastic pollution and reduce the clean-up time from millennia to mere years.
Ocean currents: a constraint turned into an opportunity
In other words, whereas most people saw moving currents as a pain point that couldn't be solved, Slat realized that the currents were part of the solution. By incorporating currents into his clean-up mechanism, Slat turned this major pain point on its head. Here was a brand new opportunity to solve ocean plastic pollution.
Slat designed his device in 2015 when he was just 20 years old. His idea was received with skepticism from some scientists. That didn't stop Slat from dropping out of school to raise funds to create the technology. He founded the not-for-profit company, The Ocean Cleanup, and went on to raise $2.2 million through crowd-funding. He raised millions more from other investors who believed in his idea.
Three years later, the first-ever ocean plastic pollution cleaner is due to set sail for the 'Great Pacific Garbage Patch', a floating mass of junk bigger than France, Germany and Spain combined, containing 79,000 tons of plastic.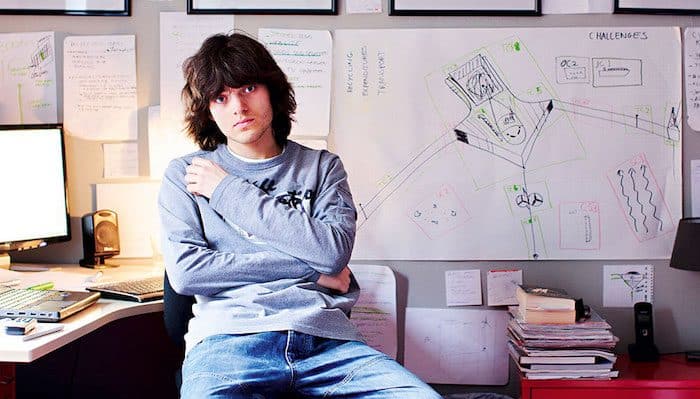 Boyan Slat is a 23-year-old Dutch inventor who doesn't believe in modest solutions to big problems.
Ocean plastic pollution is devastating marine life
According to a scientific report published by Slat's team of scientists, this figure is four to sixteen times higher than previously reported and at least 46% of the mass is comprised of fishing nets or 'ghost nets'. Animals that collide into the nets get entangled, often resulting in death.
The debris floating at the surface of the Great Pacific Garbage Patch makes up 180 times more plastic than marine life. The effects are grim, to say the least. Animals inhabiting or migrating through the area are inevitably ingesting the plastic, along with the toxic chemicals attached to it.
It is easy for animals to confuse the plastic with food due to its size and colour. Ocean plastic pollution makes up to 74% of a sea-turtle's diet in the patch.
Animals aren't the only ones suffering from health and safety risks posed by ocean plastic pollution. The plastic and chemicals ingested by marine life can end up contaminating the human food chain as well.
The first-ever ocean plastic pollution cleaner
So how does Slat's invention work? The system consists of a giant tube made of durable plastic and a nylon screen, so fish don't get caught. The screen can trap garbage as small as one centimeter in diameter.
Weighed down by large anchors driven by the same currents as the plastic, but moving more slowly, the system is able to scoop up the collected plastic. Using the movement of the currents to its advantage is what makes the system so revolutionary.
According to Slat and his team, cleaning up the ocean with conventional methods would take thousands of years and billions of dollars to complete. They estimate that their system will "remove half the Great Pacific Garbage Patch in 5 years, at a fraction of the cost", achieving both differentiation and low cost.
Because the system relies on ocean currents, it can move autonomously and does not require an external energy source. And because more of the same systems can be gradually added to the patch, the solution is scalable without needing full upfront financing.
Cleaning up the world's oceans
The Great Pacific Garbage Patch, also known as the 'Pacific trash vortex', is not the only ocean trash build-up, just the biggest. Others trash vortexes can be found in the Atlantic and Indian Oceans or the North Sea.
Ultimately, Slat wants to get the support to create more of the same systems and scale up to tackle other accumulations of ocean plastic pollution around the world, from the South Pacific to the Atlantic.
Will this revolutionary system shape the future of the ocean and of our ecosystem as a whole? Has Boyan Slat made a blue ocean shift in the environmental industry? Let us know what you think by voting below.