Five years ago, in 2017, the idea for the Global Blue Ocean Leadership Awards was born. The aim was to create an award given out every five years that would recognize individuals who have led the creation of blue oceans that have made a meaningful difference and could offer hope and inspiration to the world.
2022 marks the second Global Blue Ocean Leadership Awards. The winners of this Award exemplify individuals and organizations going beyond competing in existing markets and creating wide-open blue oceans of new market space, inspiring confidence, and seizing new growth.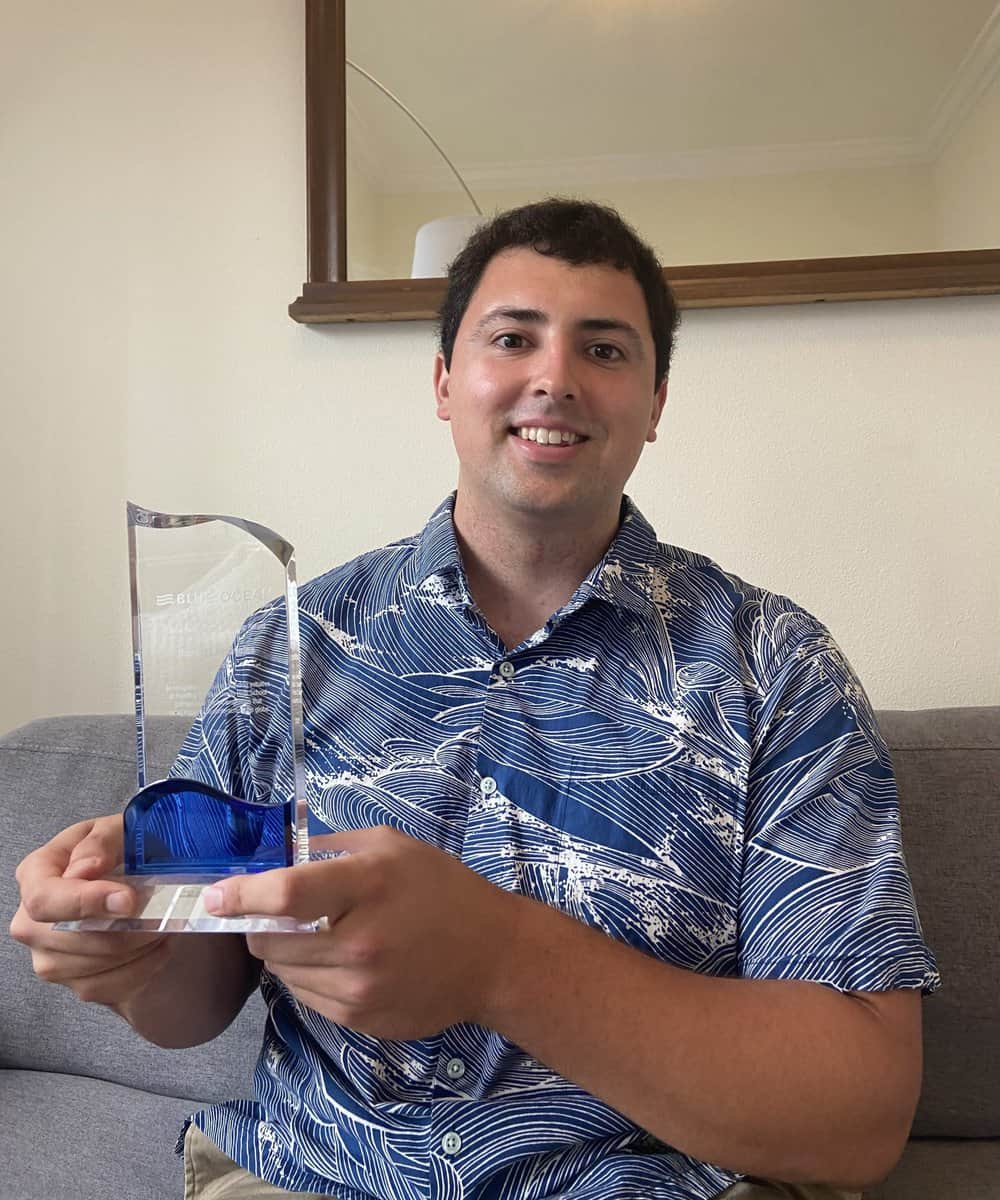 We are delighted to announce the second winner of the 2022 Global Blue Ocean Leadership Award is Nicholas Benavides, who started the Blue Ocean Student Entrepreneur Competition in 2014. His creation of the competition has opened a new market space of hands-on entrepreneurial learning for high school students.
Through his initiative and leadership, high school students are afforded the opportunity to learn how to go beyond competing and apply their creativity and insights to create blue ocean ideas of their choice, building valuable entrepreneurial and team skills for their future. Today, the blue ocean seed which he planted has grown under the leadership of the Executive Director, Ted Dacko, to become the largest and most prestigious virtual pitch competition in the world for high school students.
After starting the competition while still in high school, Nicholas has since gone on to earn his undergraduate degree and Master's degree from Stanford University.
We sat down for an interview with Nicholas to learn about his experience of working on the competition over the years and what's next for him.
You founded the Blue Ocean Competition in 2014. What made you start and how has it evolved over the years, from your perspective?
Nicholas Benavides: Initially, I just wanted a way to satisfy my own curiosity. There weren't many business programs at the high school level that I had come across that felt compelling. I was part of FBLA, the Future Business Leaders of America. It's a national organization that has chapters in a lot of schools, but a lot of their competitions were multiple-choice tests. And it felt more like a line to add to your resume than something that made business exciting, engaging, or creative. I felt like that was an opportunity waiting to be uncovered. So, I set out with a handful of teammates from my high school to start the blue ocean competition, which has since got bigger that I could have ever imagined.
In terms of how it's changed. I don't think our mission has really changed at all in the eight or nine years that we've been running things, but the operational strategy has evolved significantly. We're now a formal nonprofit organization with the board. We started out as entirely student-led and student-run, which has evolved into a hybrid. We have a handful of students that are contributing, and we have a number of seasoned executives and a high school teacher on the board who have helped us strengthen the competition and scale our fundraising significantly.
The other big change was pivoting from a live-event model to a totally virtual one around 5 years ago, well before COVID. That's really helped us expand and attract an international audience and other states in the US where it would be difficult to have a physical presence.
I stepped down from the board at the end of last year, which is a testament to the success of the competition's leadership to carry the torch forward and create even bigger impact in the future.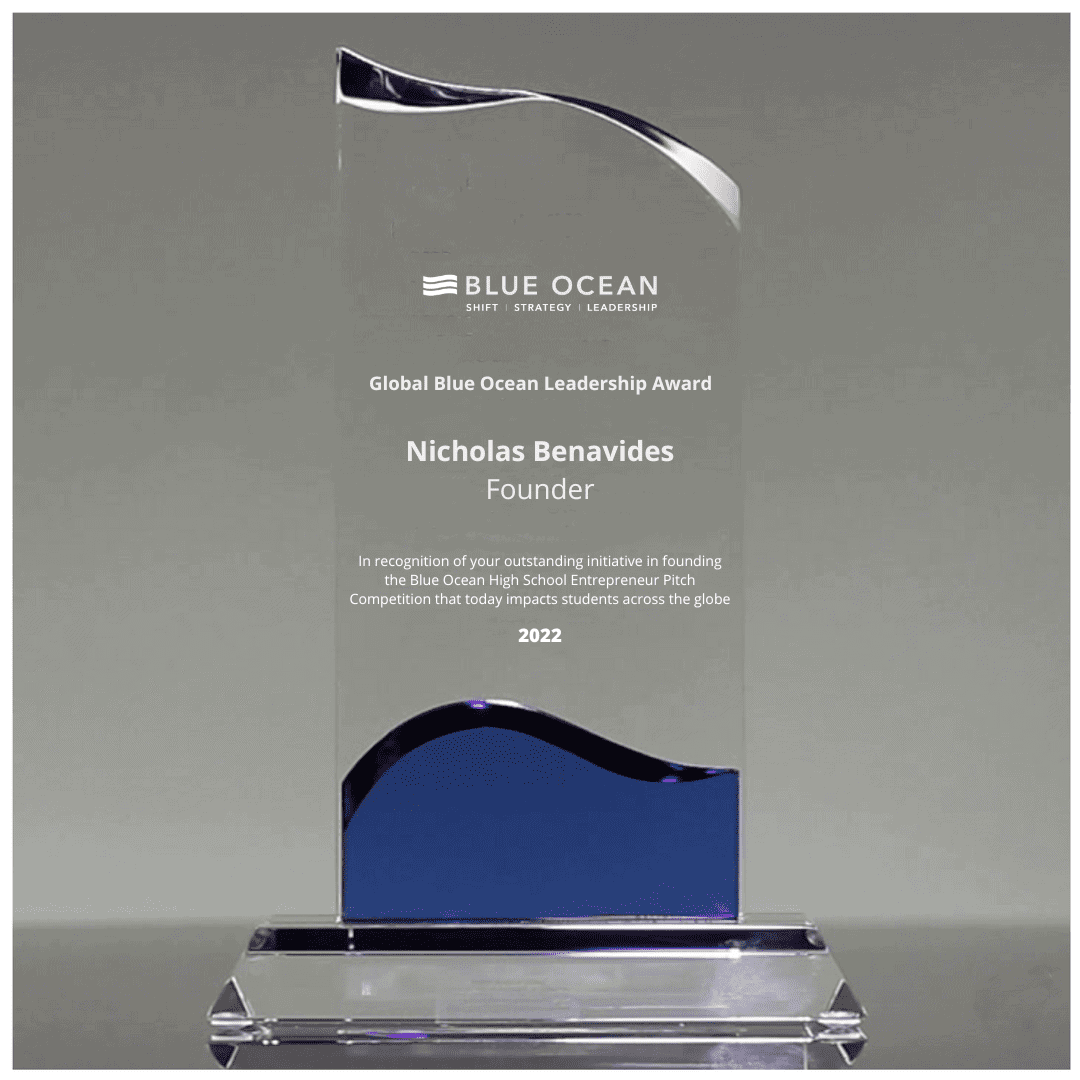 What have you learned from this experience of founding and organizing the early years of the competition? What were the key takeaways?
NB: I learned so much because I had to learn everything at once, whether it was persuading judges to give their time and participate, or getting sponsors to give us money, I really had to learn how to sell. And then there was running the event, marketing the competition to educators and their students, and motivating a team to raise funds and get the word out. The process of setting up a nonprofit was foreign to me as well. You can't get that kind of experience out of a textbook. 
One thing that stands out was, at the end of the school day, spending an hour making cold calls to teachers to try to catch them after their classes but before they would leave for the day. And I was at that time a pretty shy person. Just having to do those calls, I think really helped me personally grow in confidence and self-assurance.
But if I had to boil it down into one thing, I think it's the importance of just getting started. It's so easy to get caught up in our heads with doubts: Should I do this? Should I do that? But once you get moving, momentum takes over. It's a powerful force that just kind of keeps pushing things forward.
Why should high school students enter the competition, what are the benefits to them, and how is this competition different from the rest?
NB: First and foremost, the competition presents a great learning opportunity. You get to develop your own idea and get exposed to concepts and methods that are hugely valuable in business and life, whatever you end up doing.
Students also get the benefit of feedback from professionals who live and breathe business every day – founders, venture capitalists, senior executives, and so on.
And perhaps most of all, the competition is focused on blue ocean thinking, which is all about setting yourself apart and taking a creative and systematic approach to strategy. So, in that sense, the competition is also different from anything else out there.
What would you say to encourage high school students to participate in the competition?
NB: If my experience has taught me anything, it's that you learn so much more by doing than just by reading. The competition is an opportunity to get hands-on experience of developing a strategy, testing ideas, working through problems, and figuring out what it really takes to build a business. You can't get all of that out of a book, so I'd recommend high school students with entrepreneurial ambitions to give it a shot. In fact, any high school student can benefit from developing and pitching an idea, and it's great for teamwork skills too.  Importantly, the competition is also free so there is no economic barrier to prevent students from participating.
Watch the winning pitches of the 2021-2022 Blue Ocean Competition
What advice would you have for high school entrepreneurs today?
NB: When you start out, it's very easy to have a sort of the 'build it and they will come' kind of mentality. You can get so focused on your idea and pursue it with huge amounts of passion and enthusiasm, but as blue ocean strategy really drives home it will come to nothing if customers don't want what you are selling.
So it's extremely important to get customer validation from the outset. Interview potential customers, really try to understand the problem from the buyer's point of view, and get feedback on early designs or prototypes to make sure you're building something that solves their pain points. That will serve you well in the long run.
What have been your favorite, most rewarding moments of the competition over the years?
NB: There's a bunch. The first competition, even though it was small, will always stand out for me just because we pulled everything together in a couple of months and made it happen. It showed us what was possible and gave us a foundation from which to expand in the subsequent years.
Meeting Professor Mauborgne, who attended the competition from our first year, and later meeting Professor Kim were definite highlights.
And then seeing pitches from new countries just always makes me smile because I'm blown away that we have that level of reach. One of the teams that I judged this year was a group of four young women from Nairobi, Kenya. That was just super cool for me to see and to know that they found the competition and were able to submit their idea. It's incredibly rewarding to know so many people get something out of the competition.
What's next for you? What does the future hold in terms of your career ambitions?
NB: I'm currently taking a month off and traveling around Europe, but I'll soon be starting a new role as a data scientist, working in fraud detection for financial services. I'm still helping out with the competition in a non-board capacity, whether it's judging or answering questions. So I'm not gone forever!