The Challenge:
Every year, Southeast Asian countries are engulfed by smoky haze. It lasts for days, or even weeks, prompting flight cancellations, school closings, and causing respiratory illness. The haze is largely caused by illegal fires to clear rainforests more cheaply and quickly to make land available for palm plantations.
In addition to air pollution, new plantations contaminate water and spread harmful diseases caused by the heavy use of fertilizers and pesticides. This is not only an issue of palm plantations. The increasing global demand for Mexico avocados, for example, has resulted in hundreds of hectares of forest being cleared to make land available for avocado orchards. Because avocados are a water-intensive crop, growing them causes drought in local water reserves.
There are many hidden costs related to food arriving on our tables. In particular, the environmental costs of food from production to consumption are huge. Food is responsible for nearly 26% of global greenhouse gas emissions from the use of land and production to post-farm processes and distribution2.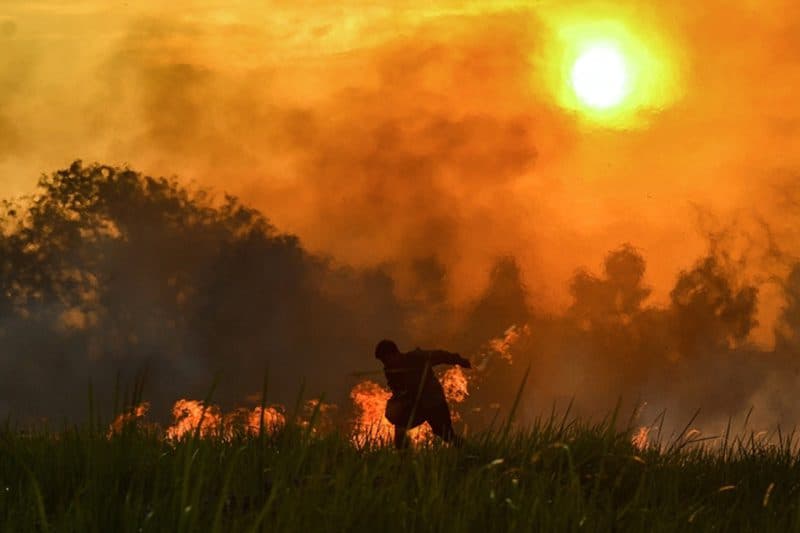 A Forest and land fire task force officer tries to douse a fire at a palm oil plantation in Pekanbaru, in Riau province, on July 20, 2019. (AFP / Wahyudi)1.
Unless dramatic measures are taken, climate change looks on track to be a rising global phenomenon, with the food industry a major contributor. While efforts are being made to mitigate the crisis by reducing and offsetting the carbon footprint from food production, consumers are increasingly not satisfied with these efforts.
Consumers are becoming more mindful of the hidden costs of food and changing their behavior toward more eco-friendly consumption. And new business opportunities are arising to solve the big pain points consumers feel regarding their consumption of food products and the impact on the environment.
Here is a company aspiring to create a blue ocean in the food industry by tackling the hidden environmental costs while bringing healthy nutritious food to people.
Blue Ocean ventures: INSEAD MBAs Strive to Create a Blue Ocean with FUL™
Three MBA students at INSEAD – Julia Streuli, Sara Guagilo and Cristina Prat – teamed up to challenge the broken food system that harms the health of people and the Earth. The start-up company FUL™ aims to provide an innovative solution to unsustainable food production and consumption using green algae.
"We would like to feed a new generation of consumers with healthy, delicious and low-carbon-footprint products by harnessing the incredible properties of algae," says Julia Streuli, the CEO of FUL.
To learn the strategy process and tools for mapping out how their green algae products can offer compelling value for the mass of buyers, hence creating a blue ocean, Julia and Sara applied the blue ocean shift process while taking INSEAD's Blue Ocean Strategy Study Group course offered by Professors Chan Kim & Renée Mauborgne, the creators of the blue ocean family of concepts.
Blue Ocean Drink
As Julia and her cofounders, Sara Guagilo and Cristina Prat, developed their strategy and ideas into an actionable business plan, several important insights were revealed to them.
"We found that algae is an ideal food source for the future. Not only is it incredibly nutritious with high protein content and rich in vitamins and minerals, but farming algae is also quite sustainable since it requires neither arable land nor considerable amounts of water to grow," says Sara. "Algae capture CO2 and convert it into O2 – and they grow very fast – taking about 10 days in total. In terms of protein yield, algae produce protein 200 times faster than beef," she continues.
Among many different types of green algae, FUL uses spirulina as a major ingredient because it does not require procedures to get novel food status. Spirulina is approved by the European Food Safety Authority (EFSA) and Food and Drug Administration (FDA) for human consumption; therefore, huge R&D costs are not involved.
Spirulina has long been known as a superfood for its nutritional benefits. Its antioxidants and immune-boosting properties made spirulina become a popular health supplement. NGOs run spirulina programs to fight against malnutrition in impoverished regions. However, FUL aims to bring green algae beyond the niche healthy food market and make it a mainstream food source, like soy. While there are revolutionary algae food products such as Thrive® Algae Oil and some countries have long been consuming green algae in their diets, FUL believes that there is a huge untapped market space that algae can fill in people's daily diet as a nutritious and environmentally sustainable source of food. As their first product, they tap into the beverage market by introducing waterFUL™, a spirulina-based drink.
waterFUL™ Aims to Reconstruct the Functional Drinks Market
In their Blue Ocean Shift project submitted for the Blue Ocean Strategy Study Group course at INSEAD, Julia and Sara identified that the beverage market is finely segmented by its function and constituents from water and juice to sports drink and energy drink. The functional drinks could be further segmented into natural drinks such as coconut water and kombucha and others like Gatorade and Red Bull.
"There are too many different types of drinks. If you want to be healthy, you choose Vitamin Water or organic juice. If you need an energy boost, there's Red Bull. If you want to hydrate, go for coconut water or Gatorade. Each drink has a specific function for a given event," says Julia.
They also found that there is no beverage that serves environmental benefits. When it comes to eco-friendliness, most beverage makers tend to think about the "disposal" stage in the buyer experience cycle by making the packaging less wasteful. FUL broadened the environmental impact of a beverage across its entire life cycle starting from raw material acquisition. Not only is waterFUL™ made of spirulina, a carbon-negative natural resource that captures CO2 when it grows, but it will also be packaged locally to reduce the distribution footprint. In this way, waterFUL™ captures more CO2 than it produces, becoming a carbon negative drink. "Based on the carbon negative nature of spirulina, we aim to blur the boundaries of functional drinks by offering a tasty and nutritious natural beverage," says Sara.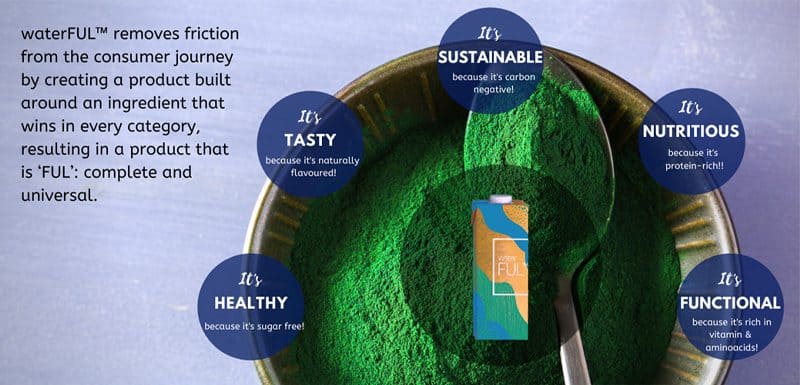 waterFUL™ – a Blue Ocean Venture in Beverages.
While smoothies and juices made with spirulina exist in some countries, they are not reaching the mass of consumers by positioning the drink as a specialty drink for health-savvy people. FUL wants to reach beyond the traditional customers by targeting Generation Z and Millennials who are conscious of healthy eating as well as eco-friendly products.
Given that "taste" is still the most important factor for them, FUL tries to make a tasty drink by combining spirulina with flavors like lemon and acerola. FUL shifts the orientation from health-focused functional drinks to tasty drinks that also manifest the consumers' consciousness of the Earth.
"Coconut water appealed to athletes for its functional benefits (i.e. hydration), but it became mainstream when the coconut water producers got the taste right and people could discover the drink's refreshing benefits. We think waterFUL™ will become much bigger than coconut water because waterFUL™ simply offers more benefits than other plant-based beverages," says Julia.
So How is FUL™ Doing? It Recently Won 1st Place in the 39th Annual Venture Competition
FUL recently won the 39th INSEAD Venture Competition and became the recipient of €35,000 in prize money, which will be seeded for FUL's venture to create the first carbon-negative beverage.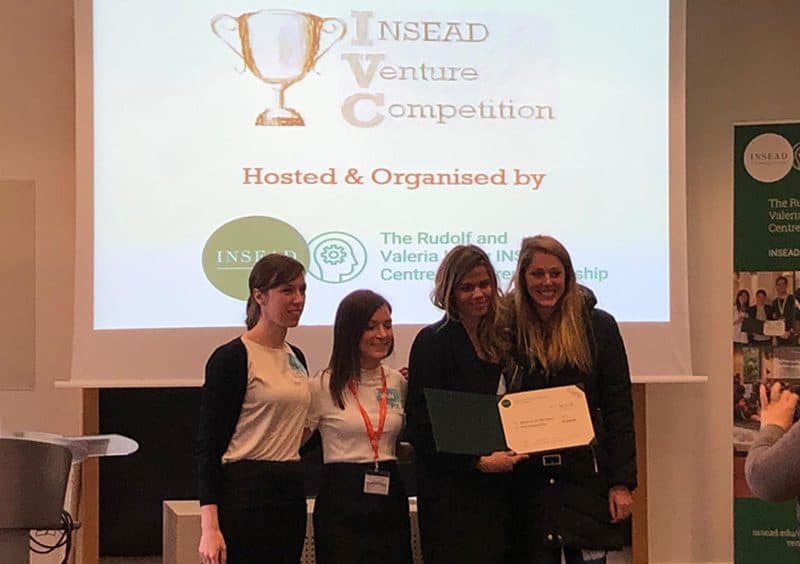 Team FUL has been awarded the first prize in the 39th INSEAD Venture Competition
FUL is currently developing a formula for waterFUL™ with leading flavor experts to create a beverage that doesn't compromise taste for nutritional value. It has already established a production and distribution channel aiming to launch the product in Amsterdam in late 2020. If you want to know more about FUL's venture, contact [email protected].
Watch the full interview with the FUL™ Founders.
1. Reeves, S. (2019). Smoke gets in your lungs. AFP Correspondent. [online] Available at: https://correspondent.afp.com/smoke-gets-your-lungs [Accessed 19 Dec. 2019].
2. Poore, J., & Nemecek, T. (2018). https://science.sciencemag.org/content/360/6392/987. Science, 360(6392), 987-992.